Lemon-Pepper Chicken Drumsticks are an inexpensive slam dunk of a dinner for adults and kids alike. Serve with green beans and quinoa for a high-protein meal.
So, we have to admit that chicken breasts and, to a lesser extent, chicken thighs get a lot of attention. But drumsticks are fun to eat, kids tend to like them, and they're inexpensive. Way inexpensive. There's plenty to go around for this meal! And honestly, sometimes simple meals are the best meals. This lemon pepper chicken drumstick recipe is a quick and easy meal prep for lunch or dinner, because it relies on two things: freezer and pantry staples.
Lemon-Pepper Chicken Drumstick Ingredients
1 to 1/2 pounds chicken drumsticks
1 (16-ounce) bag frozen green beans
2 cups quinoa, uncooked
How to Make Lemon-Pepper Chicken Drumsticks
This recipe comes together easily using a lot of things you may have on hand—assuming chicken drumsticks is one of them. Regardless, if your freezer is well stocked, we especially like this dish with green beans.
We've written this for the grill if you're game to fire it up, but you can also cook this on a very hot grill pan right inside your house. Your call!
Is this surprising to you, that we're saying to GRILL? If you think you can't meal prep on the grill, think again!
While the chicken cooks, you can cook the green beans (which you've defrosted) in a skillet with some olive oil. We kind of like them to get a little bit of a char on them if you turn the skillet it up to medium-high; it's up to you. You can cook them right from frozen. The quinoa cooks in about 10 to 15 minutes, so you can start that after the chicken hits the grill.
But the best part? The lemon chicken seasoning! We're using an old-school seasoning that used to go by the name Mrs. Dash (now it's just . . . Dash???) but it imparts the same great lemon-pepper flavor. These blends are often without salt, so just read the label carefully and add a little salt if you'd like. And that's how you get lemon chicken drumsticks. Easy!
How to Store Lemon Chicken Drumsticks
The grill is your friend here! These will easily keep for meal prepping for 4 to 5 days. You can also freeze meat that's been grilled. Just defrost it overnight in the fridge and then transfer to moderate oven to heat it up and crisp it through. Or, take it right from the freezer and reheat it in a low oven, wrapped in aluminum foil. It's a good idea to then take it out of the foil once it's heated through, turn up the temperature to about 400, to crisp it up all the way around!
Substitutions and Alterations
Feel free to use chicken wings and thighs, or a combination of different chicken parts; it'll still be lemon chicken. Consider this recipe a template for the protein itself. You can even use chicken breasts; you'll just need to make sure the chicken doesn't overcook because dark meat like thighs and drumsticks is more moist.
Broccoli is always great with chicken for some mysterious reason, so if you've got a bag of frozen florets kicking around in your freezer, by all means pull it out.
Tips
You can cook the veggies right from frozen if you like; the heat of the skillet will cook off any extra moisture if you cook them at medium-high
If you want to grill the green beans, put them all in a grilling basket and do it that way. This piece of equipment can be very handy if you grill frequently and don't want to lose your veggies in between the grill grates!
If you love lemon, serve these lemon chicken drumsticks with a couple of lemon wedges alongside, to boost the flavor.
READ MORE: More drumsticks, please! How about these Caribbean Drumsticks?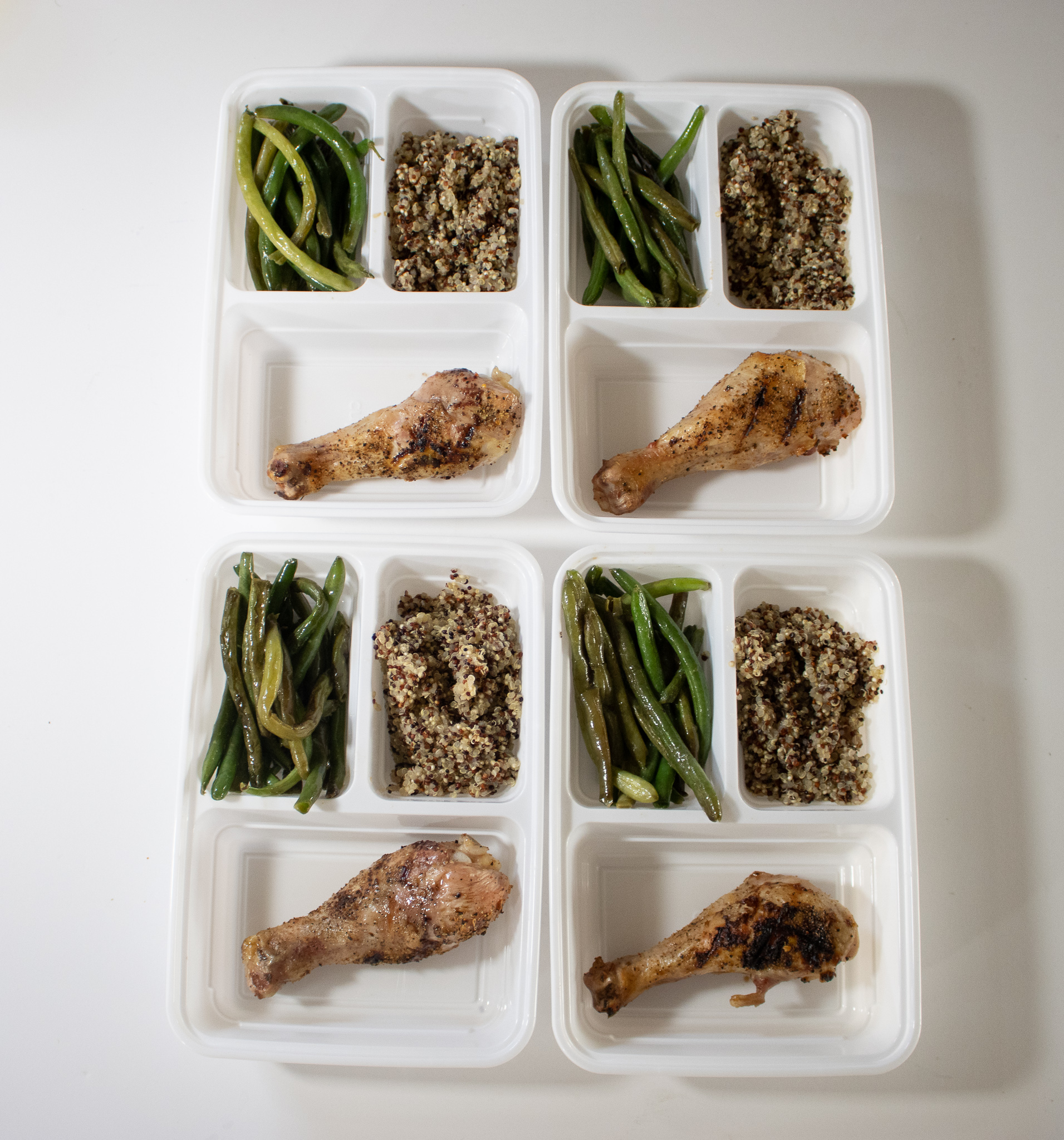 Ingredients
4

ea

chicken drumsticks

12

ounces

green beans

frozen (1 bag)

2

cups

uncooked quinoa

Mrs. Dash Lemon Pepper seasoning
Instructions
Heat the grill to 450°F and season the chicken thighs with Mrs. Dash Alternatively, heat a grill pan or nonstick skillet over medium high heat.

Place the chicken on the grill and cook for 15-20 minutes, flipping the chicken halfway through.

While the chicken cooks, heat olive oil in medium skillet over medium-high heat. Add the green beans, and season with a bit of salt nad pepper. Heat a cooking pan with olive oil and add the green beans, season with salt and pepper and cook until desired tenderness.

Following the directions on the quinoa package, cook the quinoa in a covered pot until the water has been absorbed. This usually takes about 10 to 15 minutes.

Once everything is cooked, divide it out into meal prep containers and enjoy throughout the week.
Notes
This recipe makes four meals.
To increase your protein intake, add an additional drumstick to the recipe
Nutrition
Serving:
1
meal
|
Calories:
314
kcal
|
Carbohydrates:
55
g
|
Protein:
12
g
|
Fat:
5
g
|
Saturated Fat:
1
g
|
Polyunsaturated Fat:
3
g
|
Monounsaturated Fat:
1
g
|
Cholesterol:
1
mg
|
Sodium:
5
mg
|
Potassium:
481
mg
|
Fiber:
6
g
|
Sugar:
0.01
g
|
Vitamin A:
14
IU
|
Vitamin C:
0.03
mg
|
Calcium:
40
mg
|
Iron:
4
mg