DIY Vegan Mint Oreos
Let's be real here for a second. We know that there are many vegan dessert recipes out there. Usually, they suggest substituting the non-vegan ingredients with soy, almond, cashew, or oat products… And many of them suck. They can be bland, have a strange texture, or be too obviously 'fake'. So it's our pleasure to show you a meal prep recipe that doesn't suck, and is actually quite good—Healthy vegan mint oreos! We love these especially because the texture is right on-point with original Oreo cookies. They feature crisp, crunchy cookies, with a smooth vegan cream cheese filling; and to boot they're mint flavored!
Great Meal Prep Snack for Any Diet:
Did you know these vegan mint Oreos are gluten-free too? How, you ask? By simply substituting white flour for almond flour! The added benefit with this substitution is that almond flour is also a great source of protein, coming in a 6g per cup! It also contains an impressive 3g of fiber as well, which this vegan mint Oreo meal prep recipe will fill you up. If you've never had baked goods made with almond flour, prepare yourself for a treat! We love using it because it imparts a naturally rich, buttery flavor to anything it's baked with.
Plus, it's keto, paleo, and Whole30-compliant too, so you can make baked goods tailored to your specific diet plan. If you want more desserts that have the trifecta of meal plan compliance (Keto, paleo, or Whole30), take a gander at these crazy good Almond Butter Fat Bombs, or Chocolate Almond Bark meal prep recipes so you can satisfy your sweet tooth in a health-conscious way!
Healthy Vegan Mint Oreos Ingredients:
¾ cup almond flour
¼ cup arrowroot
¼ cup natural cocoa powder
¼ cup moscavado sugar
¼ teaspoon sea salt
2 tablespoon coconut oil
2 tablespoons date syrup
Mint Frosting:
4 ounces vegan cream cheese
3 tablespoons date syrup
½ teaspoon vanilla
¼-½ teaspoon mint extract
Green food coloring, optional
How to Make Oreos at Home:
Traditional Oreos are made with real cocoa, and that's partly why they're so tasty. Don't worry though, these healthier vegan mint Oreos also contain cocoa too! They just don't have any refined sugar, wheat flour, or high-fructose corn syrup. That doesn't mean they're not rich, though—We found the vegan cream cheese to actually make them richer than regular Oreo cookies! Plus, our sweetening method is far superior to regular Oreos (the first thing on the ingredient list for them is sugar) because we use muscovado sugar and date syrup. Date syrup, if you didn't know, is super sweet, yet it has 33% less sugar than white sugar. Muscovado, the darkest available sugar, also plays a role in creating more of a rich flavor, because it contains high amounts of molasses. Freakin' sweet! ?
About Oreos:
The Oreo is one such food that has an extensive number of changes made to it, since its conception on March 6, 1912. As of 2019, that makes the "Oreo Chocolate Sandwich Cookie" over 107 years old! It wasn't always officially "Oreo Chocolate Sandwich Cookie", though… Oreos were first introduced by the National Biscuit Company (better known now as NABISCO) as the "Oreo Biscuit", until 1921 when they renamed it the "Oreo Sandwich" in 1921. It wasn't until 1974 that they were given the name Oreos, which it currently holds. Legend has it that the first Oreo was sold in Hoboken, New Jersey, to a grocer, and we hope your very first experience with these vegan mint Oreos is just as legendary!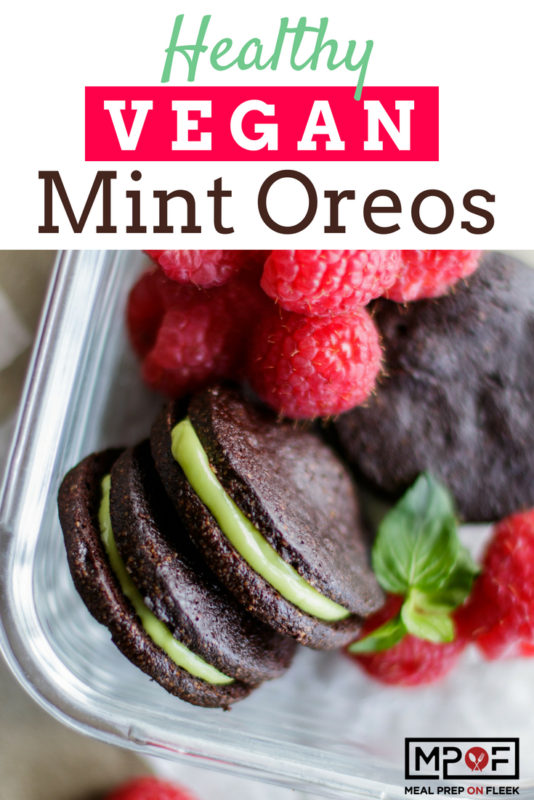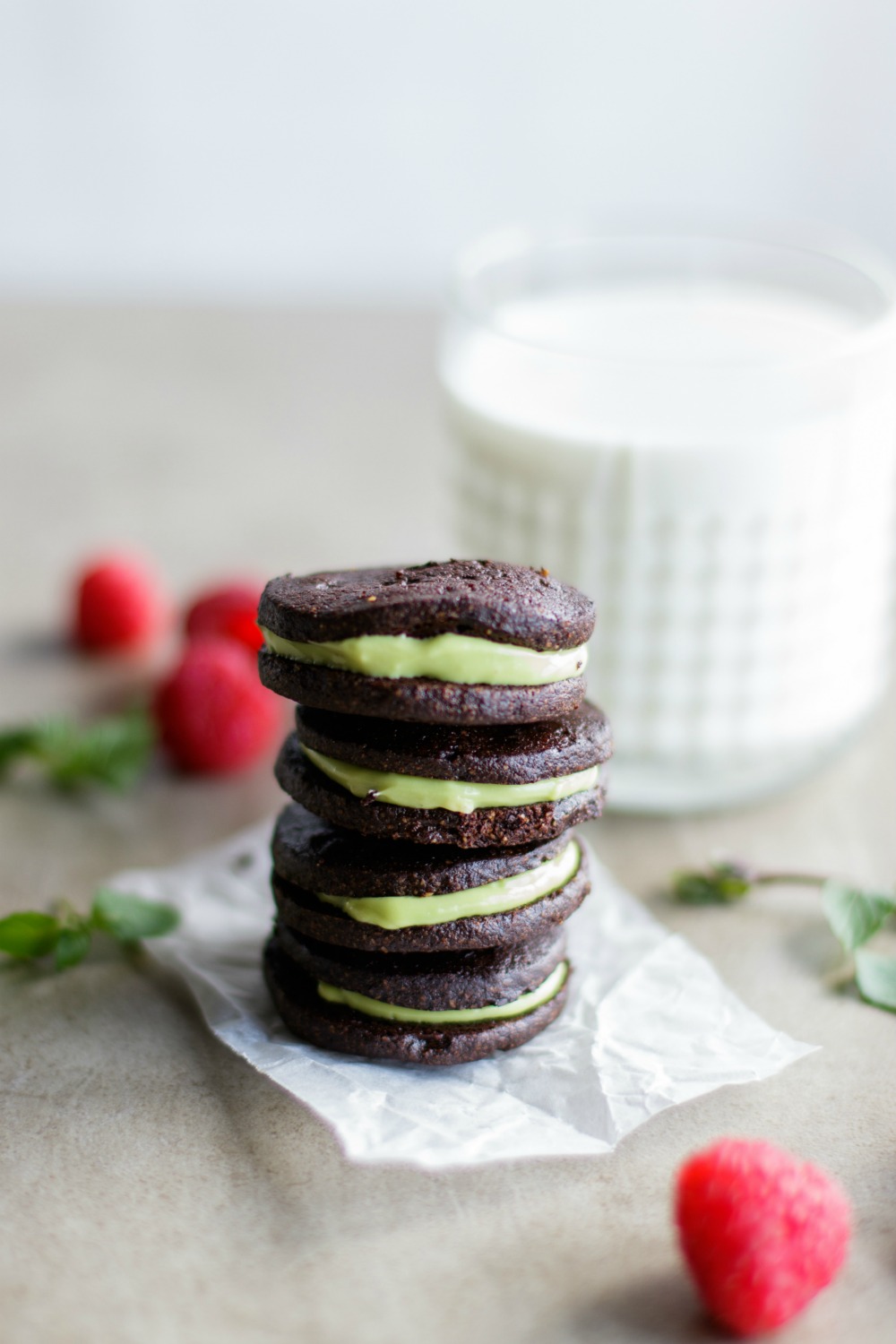 Ingredients
Cookies
3/4

cup

almond flour

not almond meal

1/4

cup

arrowroot flour

1/4

cup

unsweetened cocoa powder

1/4

cup

Coconut Sugar

or sugar of choice

1/4

tsp

Sea Salt

2

tbs

Coconut Oil

2

tbs

date syrup
Mint Frosting
4

ounces

vegan cream cheese

3

tbs

date syrup

1/2

tsp

Vanilla extract

1/2

tsp

mint extract

green food coloring

if desired
Instructions
Add dry ingredients to a small mixing bowl. Mix to combine.

Add coconut oil and date syrup to the dry ingredients, and stir well.

Add cookie dough to a large piece of parchment. Press the dough together, and then fold the parchment over the top, and use a rolling pin to roll the dough out flat. Roll out to roughly the height of an oreo cookie, being careful not to roll to thin or the cookies will burn.

Put the rolled out dough on a baking tray, and freeze for 20 minutes. Its important to use coconut oil and not a substitute in this recipe because it solidifies when frozen, allowing nice circles to be cut out of the dough.

Preheat the oven to 325 degrees F.

Once the dough is frozen, pull out of the freezer, and cut into 1-inch circles using a round cookie cutter. We used a protein powder scoop with the handle cut off - it was the perfect size.

Place the cut out cookies on a parchment lined baking sheet.

Bake cookies for 12 minutes. Do not step away during the end of baking - they will burn quickly.

To fully crisp up the cookies, allow heat to escape from the oven, and then leave the cookies in the warm oven for another 5-10 minutes.

To make the filling, allow cream cheese to come to room temperature.

Add all the filling ingredients to a bowl, and mix to combine. Peppermint extracts vary in intensity, so begin with a small amount and add more to taste.

Once cookies have cooled (it helps to refrigerate or freeze them prior to filling, so they are very sturdy), add a spoonful of frosting to half of the cookies, and then use the remaining cookies to create sandwiches.
Notes
Nutrition for 1 out of 12 oreos:
2 P | 17g C | 7g F | 1.5g Fiber | 126 Calories
Nutrition
Serving:
1
cookie
|
Calories:
126
kcal
|
Carbohydrates:
17
g
|
Protein:
2
g
|
Fat:
7
g
|
Fiber:
1.5
g