If you've ever gone hiking, on a road trip, or been on a plane, then you probably know the power of granola! As a dry food, it can go anywhere for a healthy snack in a pinch! But if you add yogurt and honey, it satisfies your hunger and sweet tooth at the same time!
This Grain-Free Granola meal prep recipe goes one step further to make your gut happy: we replaced the grains. People who really focus on the paleo diet believe that humans did not evolve to digest dairy, legumes, and grains well. They believe that eating these foods could even increase health risks.
That's why we created this Grain Free Granola at MPOF – to provide your body with the energy boost it needs. Enjoy it as a light lunch or snack option without any additives, preservatives, or chemicals. And true to our brand, we love providing you with options that make cooking fun and easy.

Ditch the grains and make this Paleo-friendly sheet pan granola, coated in a sticky honey glaze, perfect for breakfast or dessert!

How long will Grain Free Granola last for?
Granola is dry food so you can leave it out of the fridge for about 2 or 3 days as long as it is stored in an airtight container. For longer than a few days, store your meal prep recipe in meal prep containers in the fridge. Use a glass mason jar or snack-size meal prep container so you can add the yogurt and honey to spice things up.
Can Grain Free Granola be frozen?
Absolutely! It's nuts and dried berries so this simple meal prep recipe will freeze very well for just about as long as you need. But we recommend storing it for up to 6 months.
First, allow the granola to cool completely, then pack it in an airtight freezer-safe container. Gently press down on the granola so that there aren't large air pockets in the jar, which could lead to freezer burn. Leave about ¼ inch headspace at the top. Place it in the freezer.
Defrosting – Best Practice: Set the jars on the counter overnight to defrost at room temperature.
Note – If you allow it to defrost in the refrigerator, it will take much longer and the dried fruit will be tougher.
How do you make Grain Free Granola?
This meal prep recipe is ready in four steps: mixing the seeds and nuts and berries, baking and storing. The first three steps are easy, and so is the fourth:
Perhaps the most mouth-watering part of it all is adding dollops of Greek yogurt and a teaspoon of honey to the side when it's time to portion this Grain-Free Granola.
How to portion Grain-Free Granola?
Divide your baked Grain-Free Granola into four even portions using the snack-size meal prep container for the following week or weeks.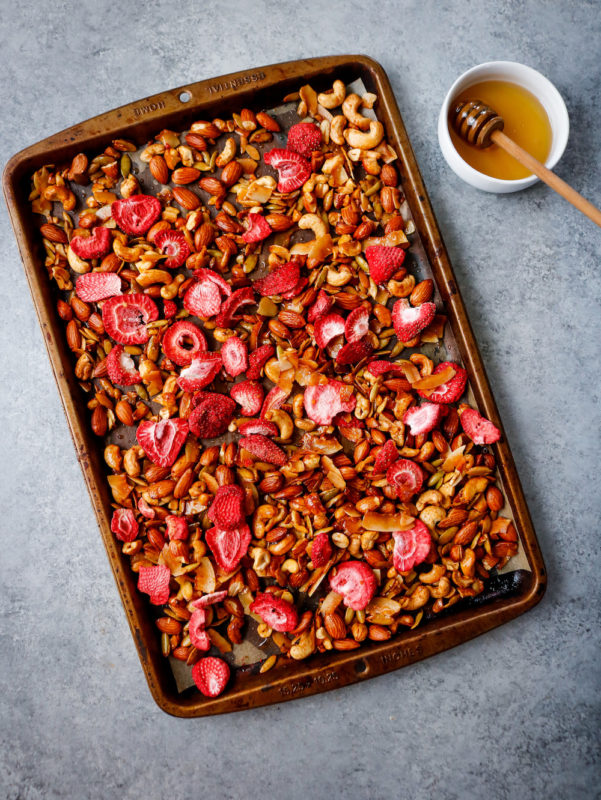 More Granola meal prep recipes:
Other tips for making Grain Free Granola:
Serve Grain Free Granola in a dual compartment

Spring for organic strawberries if you can find them

Get local honey – it's healthier for you because it puts you in sync with your local environment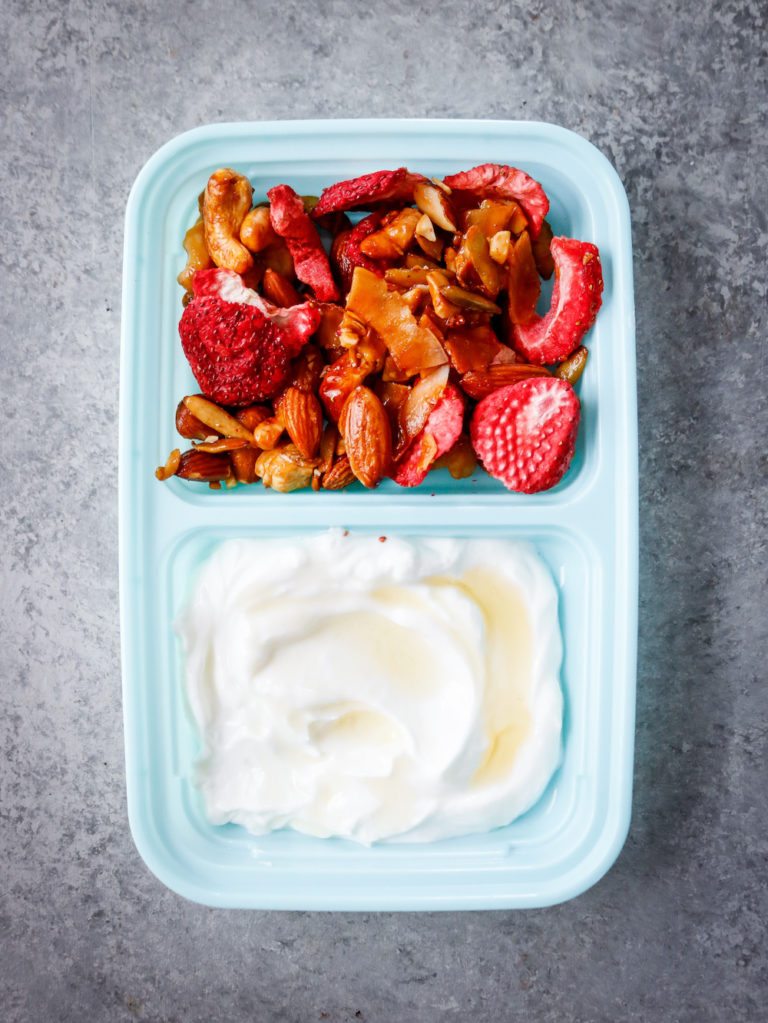 Grain-Free Granola Ingredients:
For Granola
1 cup of raw almonds
1 cup raw cashews
1 cup unsweetened coconut flakes
1 cup freeze-dried strawberries
1/2 cup pumpkin seeds
2 tbsp coconut oil
3 tbsp honey
1 tsp vanilla extract
1/8 tsp sea salt
For Serving
2 cups Greek yogurt
14 tsp. honey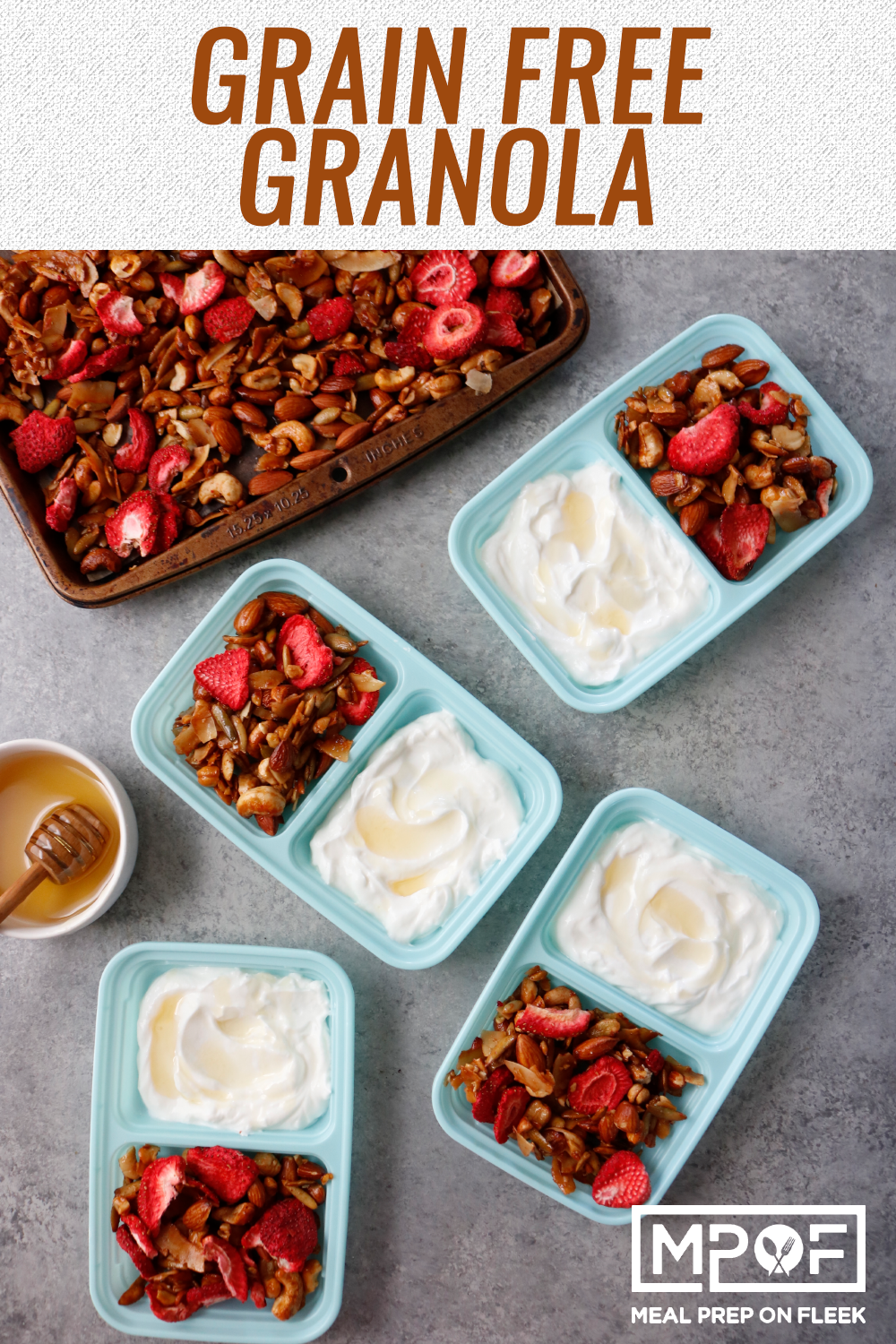 Ingredients
For Granola
1

cup

raw almonds

1

cup

raw cashews

1

cup

unsweetened coconut flakes

1

cup

freeze-dried strawberries

1/2

cup

pumpkin seeds

2

tbsp

coconut oil

3

tbsp

honey

1

tsp

vanilla extract

1/8

tsp

sea salt
For Serving
2

cups

Greek yogurt

4

tsp

honey
Instructions
Preheat oven to 300ºF and line a baking sheet with parchment paper.

Add nuts and seeds to a bowl. Melt coconut oil, honey, and vanilla extract over medium-low heat for 5 minutes. Stir well. Pour over nut mixture in a bowl and stir well to coat.

Spread mixture on a baking sheet and sprinkle with sea salt. Bake for 25 minutes or until golden brown. Remove pan from oven and stir in freeze-dried strawberries. Cool mixture for 30 minutes. Divide the granola in half and store half for the following week. Evenly divide the remaining half into your meal pre containers and serve with yogurt with a drizzle of honey.
Notes
*Save 4 servings of the granola in an airtight container for the following week. 
Nutrition
Serving:
1
meal
|
Calories:
396
kcal
|
Carbohydrates:
21.5
g
|
Protein:
19.3
g
|
Fat:
26.2
g