Pesto Beef Kabob Meal Prep (Keto, Paleo, Whole30)
There's almost nothing we find more satisfying than a well-cooked, expertly-seasoned piece of meat. Beef, in particular, is absolutely one of our favorites, and that's why we've brought this robustly-flavored keto, paleo, and Whole30-compliant pesto beef kabob meal prep recipe!
What is a Kabob?
The kebob (traditionally spelled kebab) is believed to have found its origins in Turkey. The oldest known mention of the word as a food item dates back to the year 1377, when Turkish soldiers would roast freshly-hunted meats on their swords over open fires. In fact, the word "kebob" is a shortened version of the Turkish şiş kebap—şiş meaning "skewer", and kebap meaning "roasted meat". Depending on the region, traditional kebobs are prepared with lamb, beef, fish, or chicken, and almost always veggies like onions and peppers.
Why do these Kabobs taste so good?!
Got beef? These beef kabobs certainly do, because to make them we use an entire 12-ounce sirloin steak! There's a ton of protein in each one too, containing a whopping 37g per serving! That means you're gonna be full and energized for your undoubtedly-full work or school day! Not to mention, per serving these beef kabobs only 7g of carbs and a very generous 40g of fat, so keto-lovers will be jumping for joy!
The thing that really sets these beef kabobs apart from the competition is that they're marinated in a simple pesto sauce that you can make easily from scratch! Just throw your basil, olive oil, pine nuts, garlic, and sea salt into a blender, then pulse on high until the mixture is smooth and well-combined. Refrigerate until sauce until ready to serve!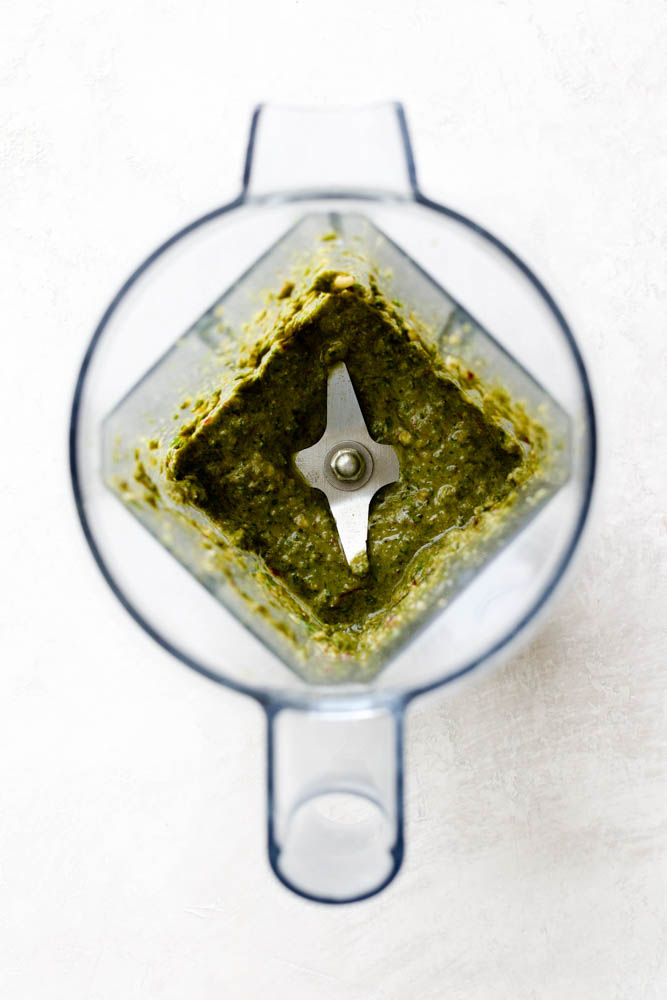 What are the health benefits of these kabobs?
One of the most healthy parts of this pesto beef kabob meal prep recipe is actually an ingredient in the pesto itself—Pine nuts! Containing the highest protein content of any nut, pine nuts come with a surprisingly large host of health benefits! Such benefits include increased energy, improved bone, eye, digestive, and immune health, reduced risk of heart disease, and elimination of free radicals in the body! Pine nuts have even been shown to act as a weight loss aid!
This pesto beef kabob meal prep recipe makes two servings, which we found came together in just 10 minutes of prep and 10 minutes of cook time! While you are certainly fine to use a stovetop to cook these in a pan, we highly recommend flame grilling them. Doing so makes it considerably easier to get a light char going, which dramatically improves the flavor of the meat! This flavor improvement is all thanks to a fascinating phenomenon known as the Maillard reaction. This effect is caused by the chemical reaction between naturally-occurring amino acids and what are known as reducing sugars—Sugars that are capable of breaking down other molecules into simpler forms. This is the complex process that occurs when we're doing something as seemingly simple as browning up meat to be served!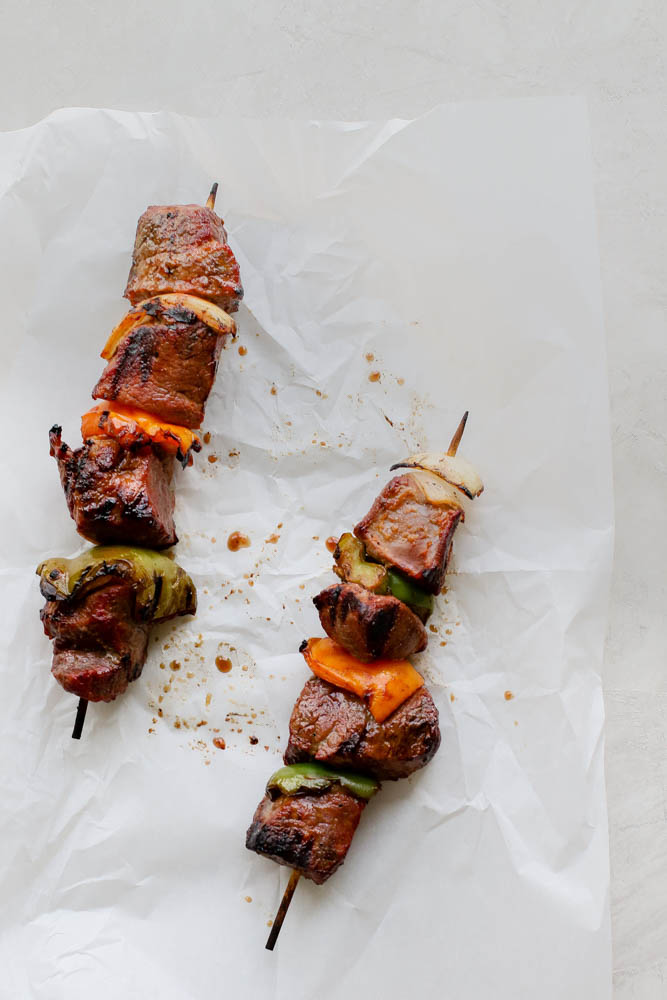 Keto Pesto Beef Kabob Meal Prep Ingredients:
12 oz steak sirloin, cut into 8 1" cubes
1 bell pepper, cut into large chunks
½ red onion, diced
2 cups fresh basil leaves, packed (or sub spinach)
½ cup extra virgin olive oil
⅓ cup pine nuts
3 garlic cloves
Himalayan sea salt

Meal prep fam, if lately you've been asking, "Where's the beef?" when it comes to your weekly meal prep regimen, don't have a cow! We are certain that these pesto beef kabobs are the answer you've been waiting for. For more beef ideas, check out our 25 High-Protein Beef Meal Prep Recipes!