Italian Sub Lettuce Wrap Meal Prep is an easy keto meal prep packed with salami, ham, provolone, lettuce, and a quick red wine vinaigrette dressing.
There's no shortage of lettuce wrap meal prep ideas on the internet and for good reason. It's one of our favorite preparations for fresh flavor, lighter caloric intake, and ease of transport. (We love these Pulled Pork Lettuce Wraps, and these Sweet Potato and Black Bean Veggie Burgers can also go for this fun and leafy preparation.)
But we thought we'd use this approach to enjoy a fun spin on a classic: the Italian Sub! Because when you're doing keto, you miss sandwiches, right? You can get all the flavors but none of the carbs from bread this way.
The Origins of the Italian Sub Sandwich
Despite its name, the Italian Sub is said to have been invented in Portland, Maine. In the early 20th century lots of Italians came to New England to work opportunities there. And luckily for us, they also brought great lunch ideas! According to food historians, an Italian baker accepted the request of local dockworkers to add meat, cheese, and fresh vegetables to the baked rolls he was selling from a pushcart. The rest, as they say, is Italian Sub history. And today it is the inspiration for our newest meal prep idea!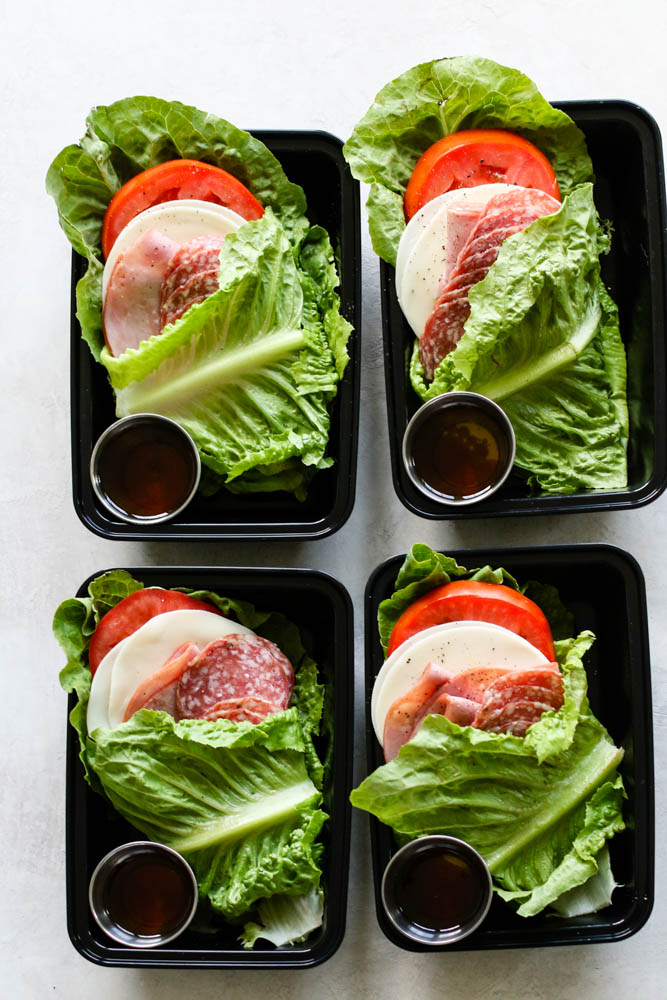 Italian Sub Lettuce Wrap Meal Prep Ingredients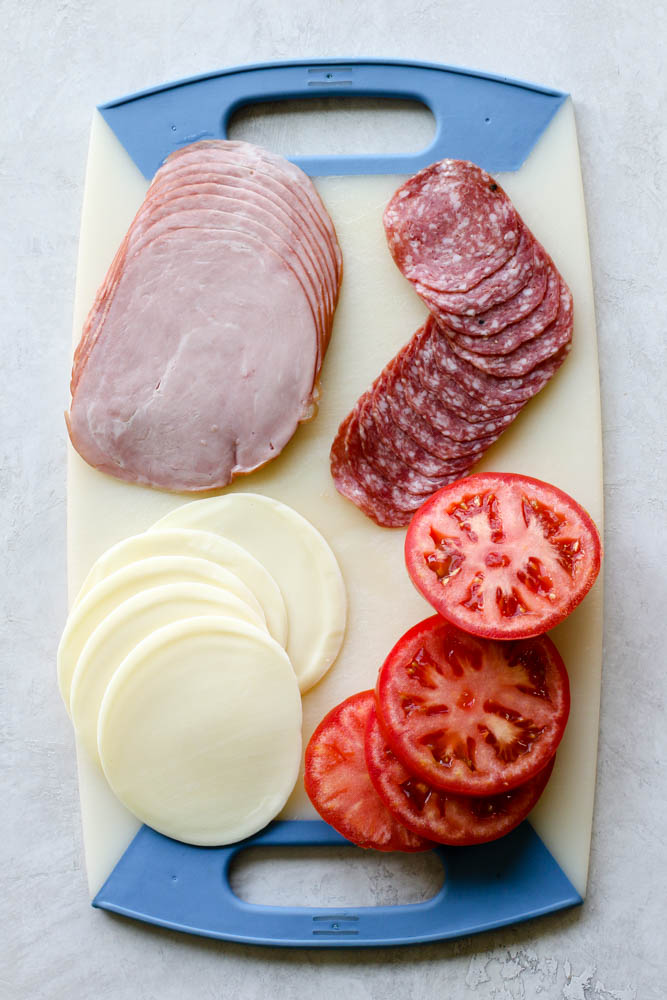 4-8 large romaine lettuce leaves, washed, rinsed, and dried
8 oz salami slices
8 oz sliced ham
4 oz sliced provolone (for Whole30 version, leave off the cheese)
1 large tomato, sliced
¼ cup olive oil
¼ cup red wine vinegar
Black pepper
Himalayan sea salt
How to Make Italian Sub Lettuce Wrap Meal Prep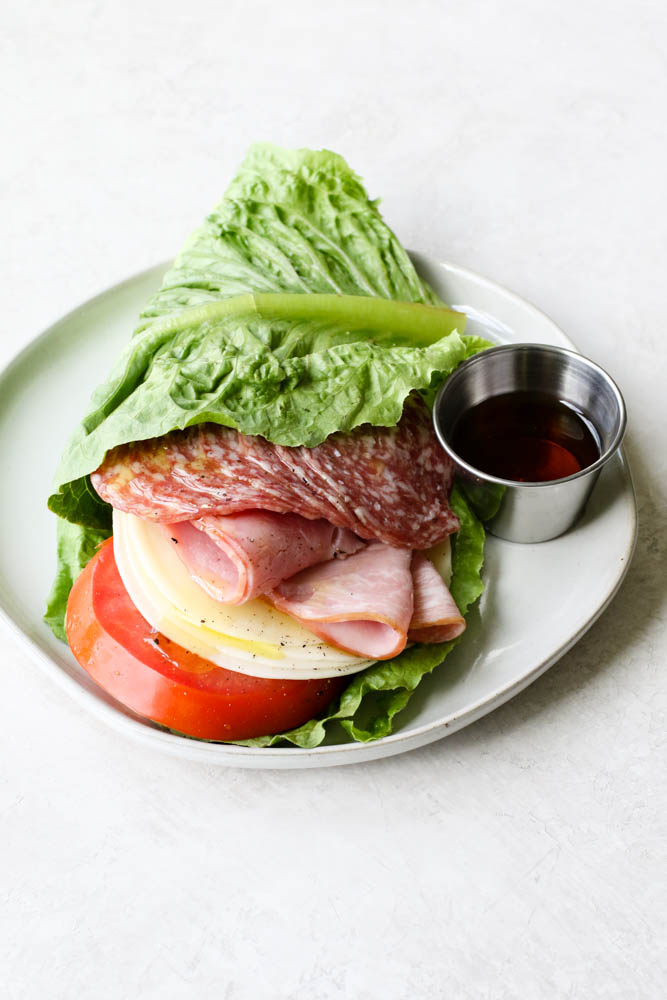 Salami, sliced ham, provolone, and tomato come together between crisp leaves of fresh romaine. They're perfectly complemented by a quick dip in a homemade red wine vinegar dressing. Don't forget salt and fresh black pepper! The simple but effective seasoning is not only traditional to the original version but it can't be skipped; it brings all the flavors together (A dash of oregano wouldn't hurt either, come to think of it!). We've already lightened up the traditional sandwich a bit by offering it as a lettuce wrap meal prep, but feel free to omit the cheese for a Whole30- compliant version!
For such a low-calorie plate (209 calories per serving), this lettuce wrap meal prep is delicious and still packs an impressive protein punch- almost 30 grams per wrap! Take them to work, take them to the dinner table, or take them to their original home on the docks of Maine. Wherever you enjoy them, this Italian Sub Lettuce Wrap is a super easy and satisfying meal prep idea!
Tip: If you like this idea, you can copy the approach for other popular sandwiches you might be missing out on because of keto, whether it's a turkey club or tuna salad. Serve them in giant lettuce leaves. Romaine is great, but Boston bibb works well too. (Iceberg tends to break sometimes but you can try it if that's what you've got.)
How to Store and Serve
Once they're all put together, which will take you very little time indeed, you can store it right in the fridge in airtight containers. We love these as they are, with the homemade dressing drizzled across the top. You probably won't need much else, but a salad would be a smart addition to this prep if desired.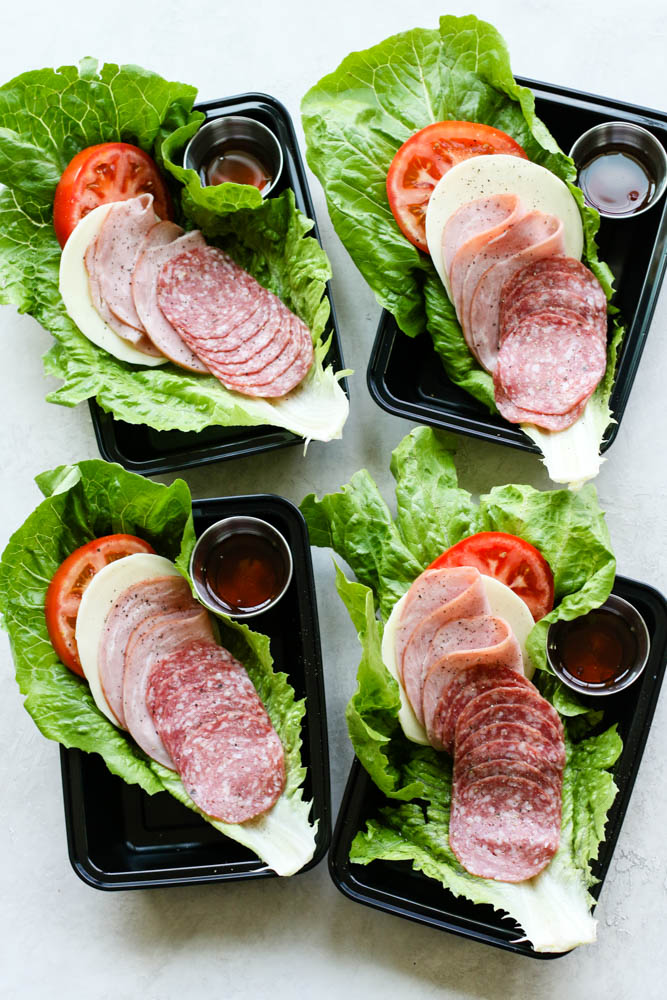 More Lettuce Wrap Meal Preps for Lunch!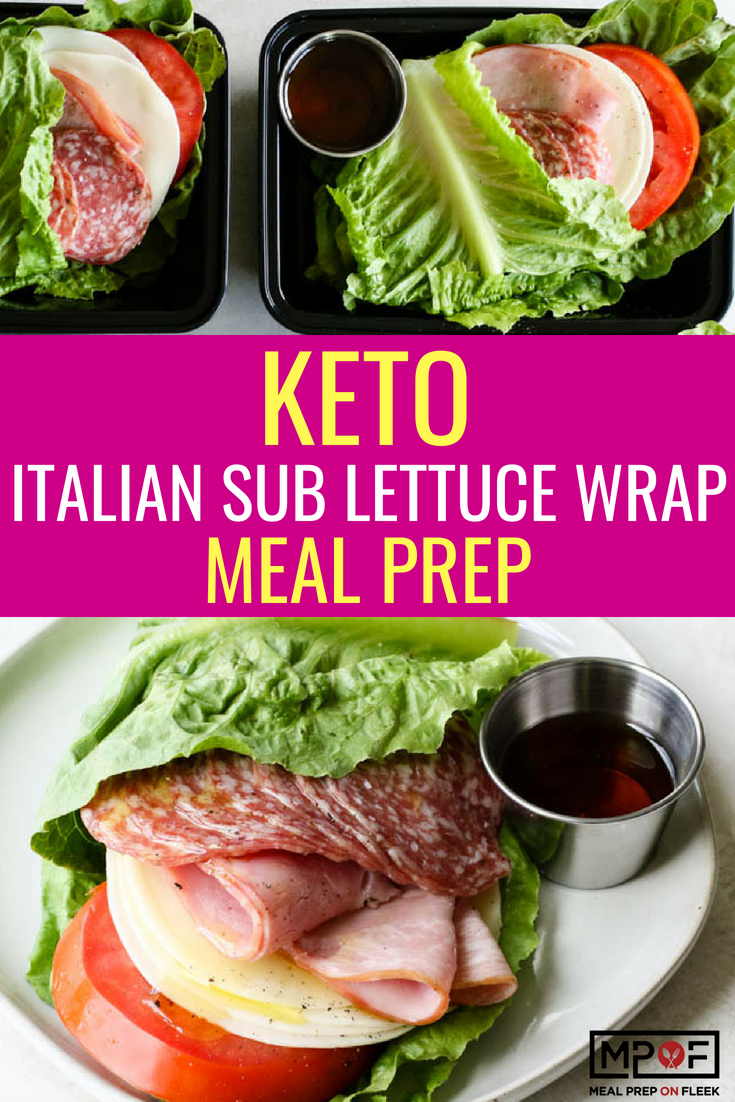 References: