Thank you to Now Foods for sponsoring this Keto Snowball Cookies recipe post, and thank YOU for supporting the brands that help make Meal Prep On Fleek possible. All opinions are our own.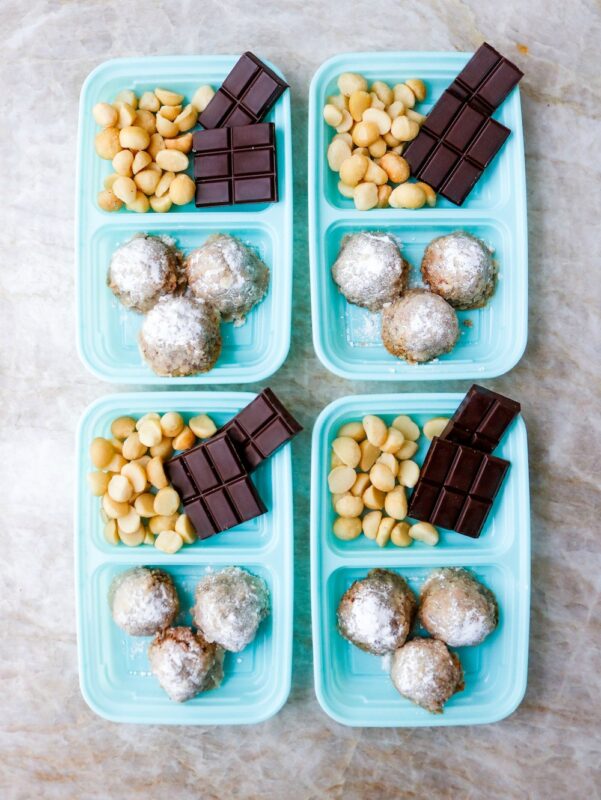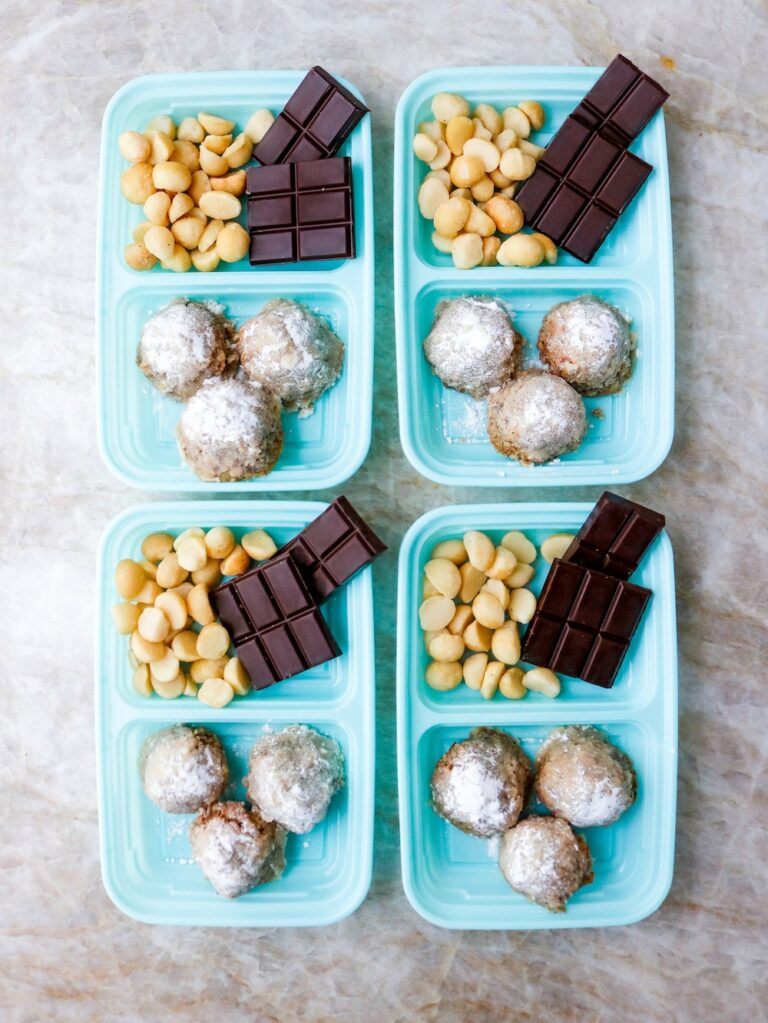 These keto snowball cookies bring the holiday cheer without all of the sugar and carbs! Monk fruit and erythritol step in to sweeten along with healthy fats from walnuts and almond meal for a guilt-free snack.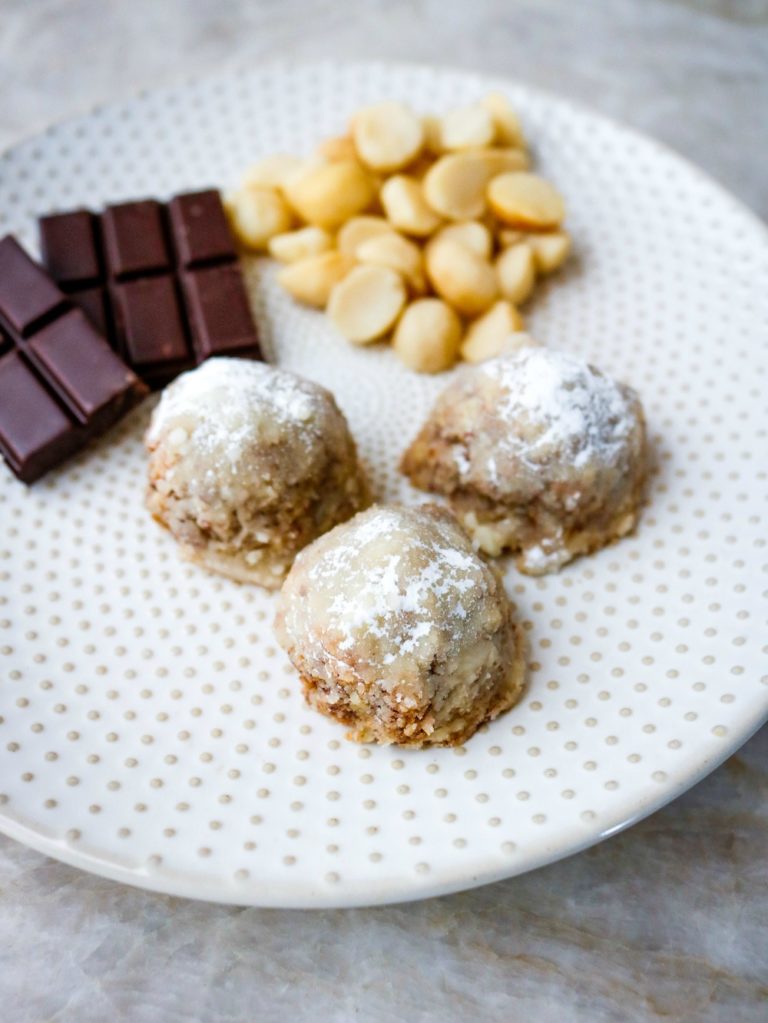 Would you think it is possible to enjoy a holiday cookie that is sugar-free, keto-friendly, grain-free and gluten-free? If you don't think it is, we guarantee you that this Keto Snowball Cookie recipe will change your mind!
Snowball cookies were one of our favorites growing up. We remember making them with our grandmother in the traditional way; flour, sugar, butter, and pecans. We would have powdered sugar all over our faces and then pop those little bite-sized cookies into our mouth, one by one. But, since having to go gluten-free, we wanted to remake this delicious dessert.
We have also been a bit more mindful of the amount of sugar we are using in all recipes. This is why we have been including the Now Foods monk fruit and erythritol in our recipes over the last year. If you aren't familiar with erythritol, we highly recommend checking out this article!
How we made the swaps:
We spent some time swapping ingredients to make a *healthier* version (not that the OG recipe isn't good for you in moderation) and came up with a twist that will fit almost any dietary need! So, what did we swap?
We replace the white flour for almond meal (or almond flour would work), we swapped the traditional use of pecans with walnuts to create our own fun twist, and we replaced the regular sugar with vanilla monk fruit sweetener, and then replaced the powdered sugar with powdered erythritol. We kept the regular butter, but if you are vegan or dairy-free you would use a dairy-free butter replacement.
Not only will this recipe be a hit at your holiday party, but each little cookie comes with a nutritional punch (but, you don't need to tell anyone that!)
Almonds contain fiber, protein, and help lower blood sugar levels
Walnuts contain a high level of Vitamin E, are full of antioxidants, and are known to reduce inflammation
Erythritol is an antioxidant and helps improve blood vessel function
Monk fruit contains anti-inflammatory properties and has no calories or carbs. This makes monk fruit safe for people with diabetes and aligns with a keto, vegan, gluten-free, and dairy-free diet.
The flavors of the Now Foods Monk Fruit don't stop at vanilla (although that is our go-to). They also make an unflavored and a chocolate flavor. The chocolate is delicious mixed into your coffee in the morning!
How to convert from dry to liquid sweetener:
If you are looking to add monk fruit into some of your other holiday baking recipes, here is a quick conversion:
Sugar = Liquid Monk Fruit Sweetener
1 tsp sugar = 1/8 tsp
1 Tbsp sugar = 3/8 tsp
1/4 cup sugar = 1 1/2 tsp
1/3 cup sugar = 2 tsp
1/2 cup sugar = 3 tsp
1 cup sugar = 2 Tbsp
The only thing to be mindful of is if a dry sweetener is needed to bind. So, for example, a cake or brownie recipe might need dry sugar to make it bake correctly. This might require swapping the dry sugar for additional flour if using monk fruit to make sure that it bakes and binds correctly. You can swap dry sugar 1:1 with erythritol, though.
KETO SNOWBALL COOKIE PRO TIP: you should freeze the dough for 20-30 minutes instead of putting it in the refrigerator for an hour to speed up the process. Do not try to bake these right after making the dough or they will spread and flatten out.
You can serve these as is at your next holiday party or meal prep them with your favorite sides! We paired ours with macadamia nuts and some of our keto chocolate for the ultimate sweet keto snack box!
Keto Snowball Cookies Ingredients:
Cookies
Optional Sides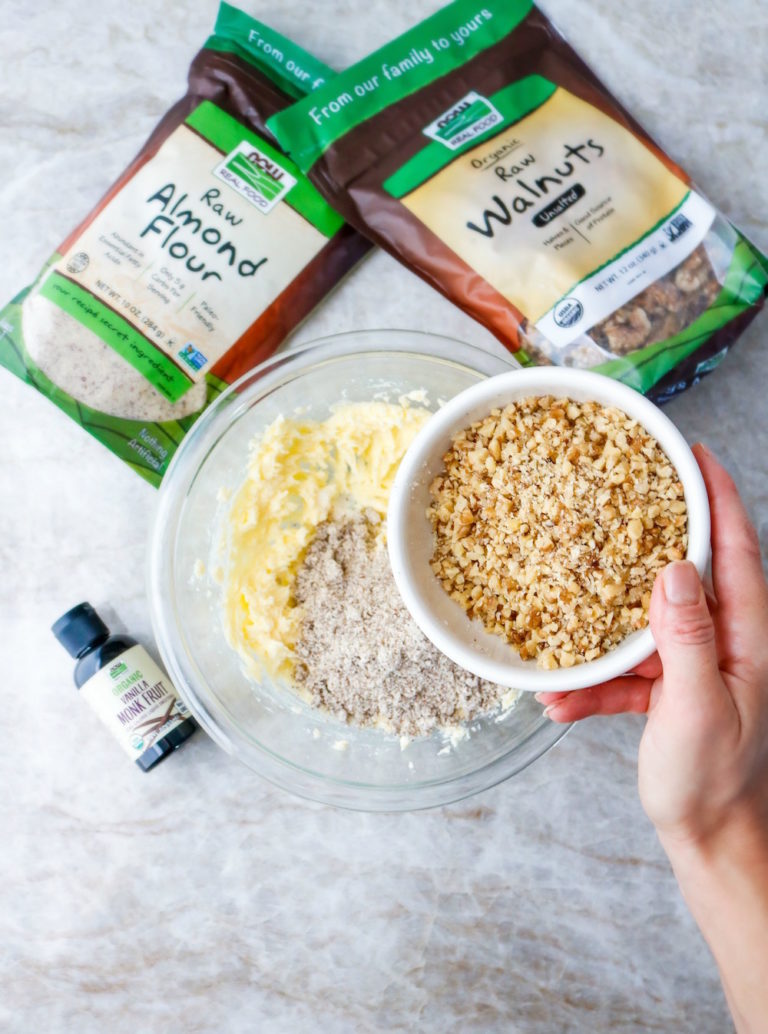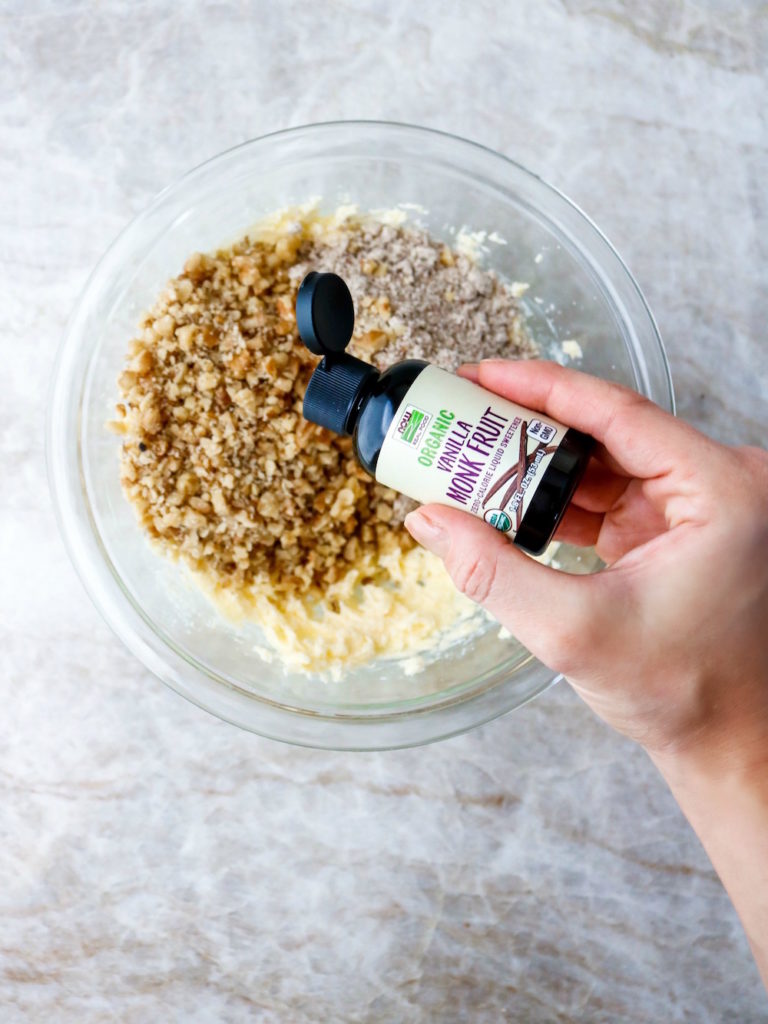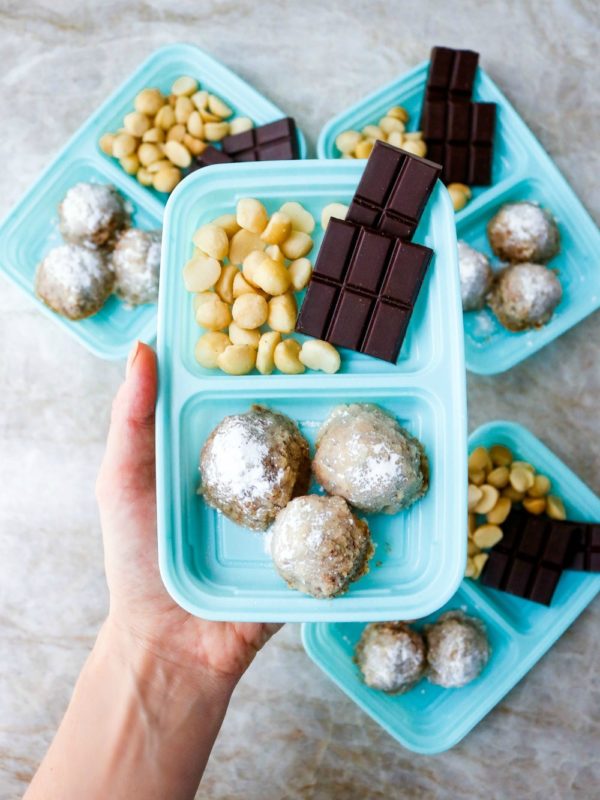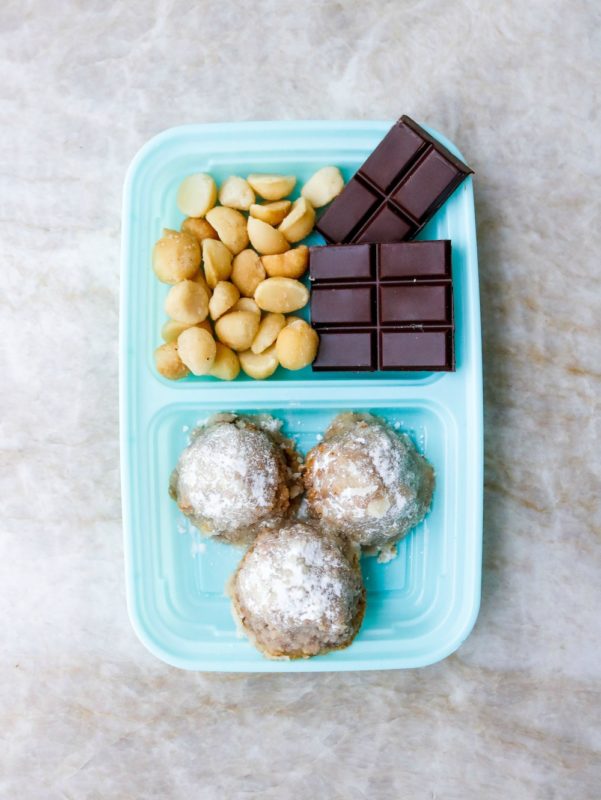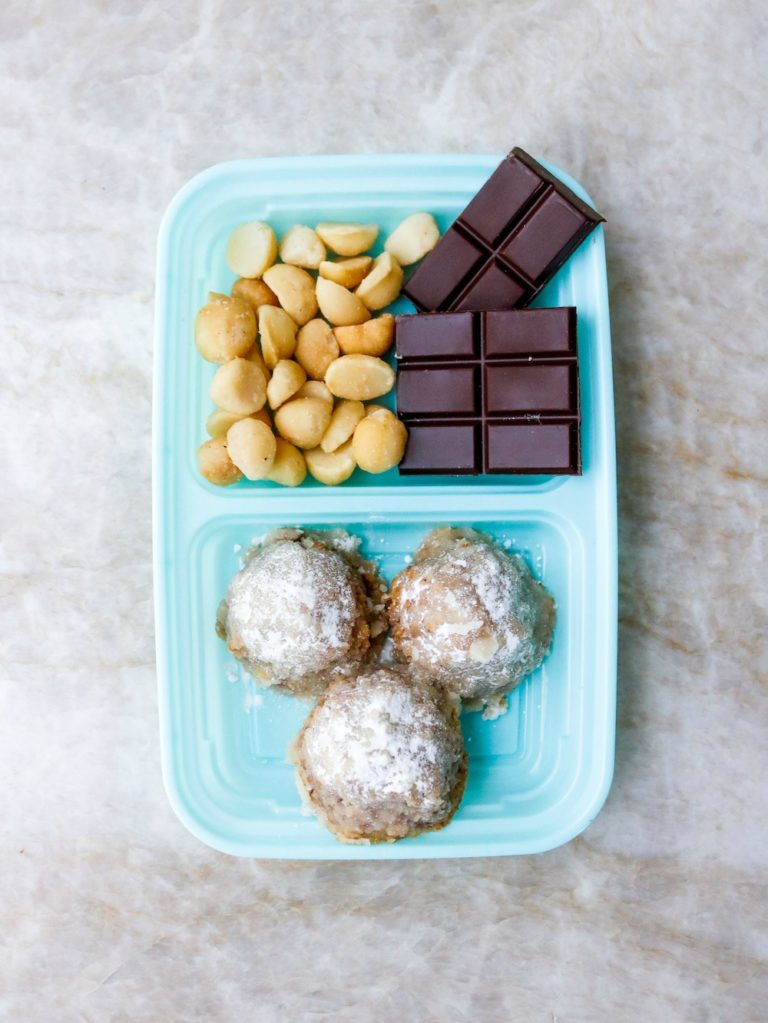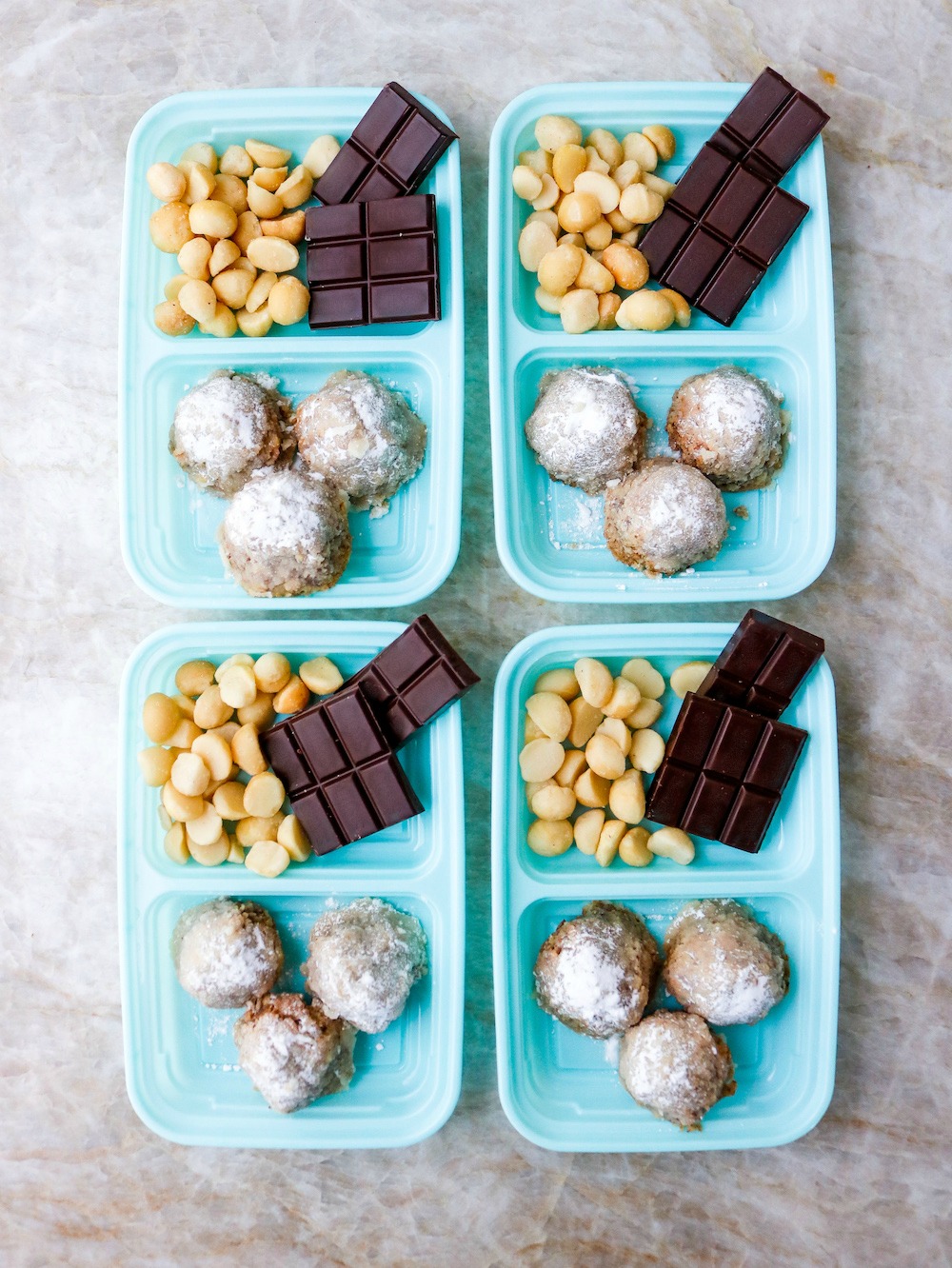 Ingredients
3/4

cup

almond meal

1

cup

raw walnuts

finely chopped

1/2

cup

softened unsalted butter

1/4

cup

granulated erythritol

1 ½

tsp

liquid vanilla monk fruit

Pinch

of sea salt

1/2

cup

powdered erythritol for rolling
Serving pairing suggestion:
1

cup

macadamia nuts

1

recipe

keto chocolate
Instructions
Combine butter and granulated erythritol in a medium mixing bowl. Cream together using a hand mixer for 30 seconds. Stir in almond meal, walnuts, vanilla monk fruit sweetener and sea salt to form a dough. Refrigerate for 1 hour to firm dough. This will help prevent the cookies from spreading in the oven so do not skip.

Preheat oven to 325ºF and line a medium baking sheet with parchment paper. Scoop out 1 tablespoon mounds of dough and roll into a ball. Place cookies on baking sheet 2 inches apart. Bake for 20 minutes, rotating cookie sheet after 10 minutes. Cool cookies at room temperature on cookie sheet for 20 minutes to allow cookies to firm.

Add powdered erythritol to a small bowl. Roll each cookie in powder and place 3 cookies in one compartment of 4 snack size MPOF containers. Add sugar-free chocolate and macadamia nuts to the other compartment.
Notes
Nutrition facts are for 1 cookie only. 
Nutrition
Calories:
124
kcal
|
Carbohydrates:
7.7
g
|
Protein:
2.2
g
|
Fat:
11.6
g
|
Saturated Fat:
4
g
|
Cholesterol:
14
mg
|
Sodium:
1
mg
|
Potassium:
56
mg
|
Fiber:
1
g
|
Sugar:
1
g
|
Vitamin A:
158
IU
|
Vitamin C:
1
mg
|
Calcium:
24
mg
|
Iron:
1
mg