Gluten-Free Cinnamon Roll Meal Prep is totally a thing! They're a great snack and a delicious morning indulgence that we've made healthier with the addition of ground psyllium husk!
Yes, you're seeing gluten-free cinnamon rolls alongside a handful of whole almonds, raisins, and some baby carrots. We will never tell you to totally forgo sweets (unless that's what you need to do; in which case, we're here for that, too. We just want you to be happy with your meal prep recipes and meal prep ideas.)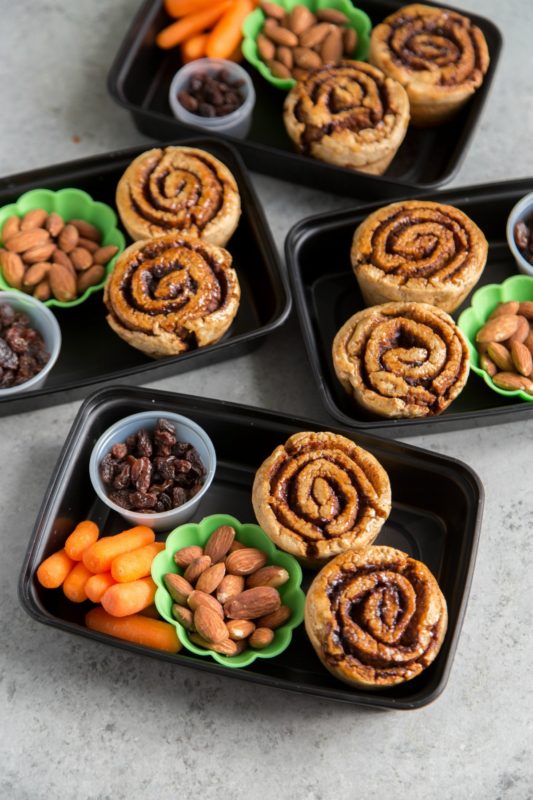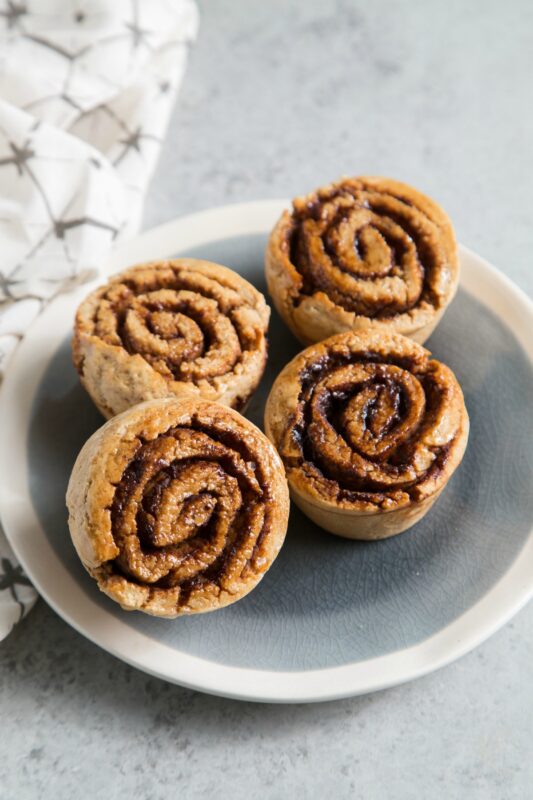 Gluten-Free Cinnamon Roll Meal Prep Ingredients
Dough:
3 1/4 cup gluten-free flour blend (see note)*
1 1/2 cups oat flour
1/4 cup ground psyllium husk
3 tbsp coconut sugar
2 1/4 tsp (1/4-ounce packet) instant yeast
1 tbsp baking powder
1 tsp fine sea salt
2 cups warm water, about 110 degrees F
2 tbsp melted coconut oil
2 large eggs
Filling:
Vegetable oil spray
1/2 cup coconut sugar
1 1/2 tbsp. ground cinnamon
Glaze:
Dark maple syrup, as needed
How to Make Gluten-Free Cinnamon Rolls
These don't look like your grandmother's cinnamon rolls, admittedly. But Grandma never made gluten-free baked goods, much less ones with additional fiber!
You'll need to get ahold of the Bob's Red Mill gluten-free baking blend (the 1-to-1 blend, in the blue bag). We find that that particular blend produces incredibly reliable results, and the xanthan gum, which you typically need for gluten-free baked goods. You also need oat flour, which adds some fiber and a nutty taste to the cinnamon rolls. The dough comes together in the bowl of a stand mixer with a little yeast. It's not tough to put together, it just takes a little finesse!
Once you have the dough ready to go, roll it up tightly and then slice it into "rolls." Transfer them to a muffin tin and let them rest for an hour. These gluten-free cinnamon rolls bake up beautifully, and require very little else to be delicious. A bit of good quality maple syrup over the top while they're cooling from the oven tastes really good, in lieu of the standard confectioners' sugar glaze that we're all accustomed to. (This is far less cloyingly sweet.)
How to Serve Gluten-Free Cinnamon Rolls
We love these hot out of the oven, but not too hot! (Patience is a virtue, they say.) But we've prepped them here as a fun breakfast or maybe even a hearty sweet snack for the middle of the afternoon. If you need to reheat them, pop them in the toaster oven or a low oven, wrapped loosely in foil. They should perk right up.
How to Store Gluten-Free Cinnamon Rolls
Once they're cool enough to handle you can transfer them to prep containers and add other goodies in there to boost up the nutrition of this meal prep. We like raisins, almonds, and carrots as pictured, but you can put together some combo of fats, protein, and some vitamins because let's face it, these cinnamon rolls aren't going to be the most nutritious thing you eat all day. However, they do have some protein, fiber, and healthy fats, so it's not the same as eating
Substitutions and Alterations
Well, let's be honest. This is a baking recipe, and a gluten-free one at that, which means it's not the easiest recipe to tinker with before things start to potentially go sideways. We wouldn't do too much to mess with success, but you can do the following pretty safely, without affecting the success of your gluten-free cinnamon roll meal prep.
Brush the top with honey or agave nectar instead of maple syrup.
Sprinkle the top with coconut sugar or demerara sugar.
Go totally old school and make a simple glaze with some milk and confectioners' sugar and drizzle across the top. (We'd do this sparingly, but you do you!)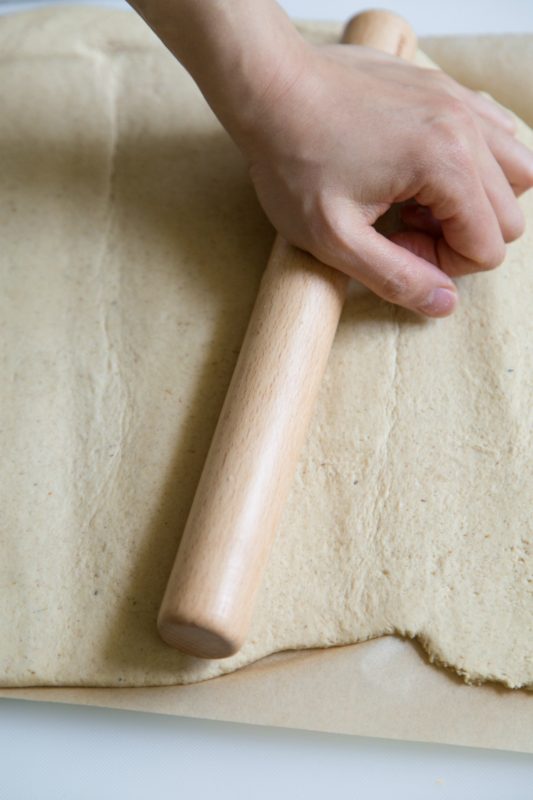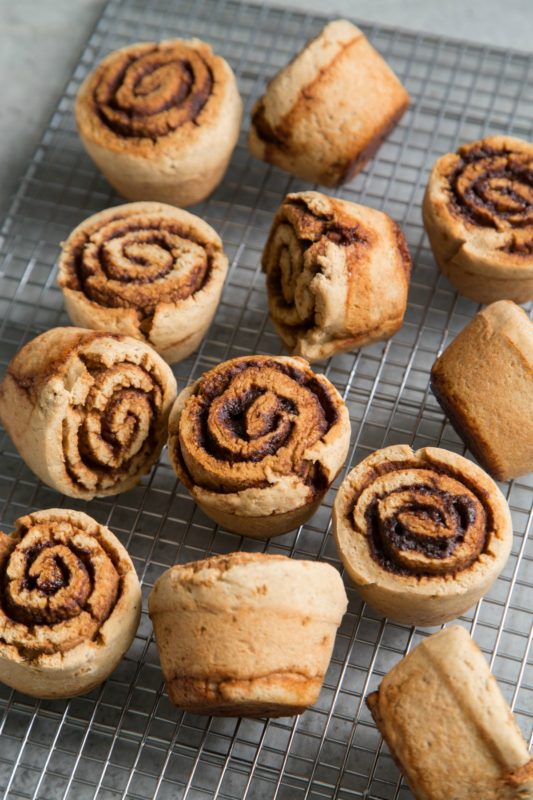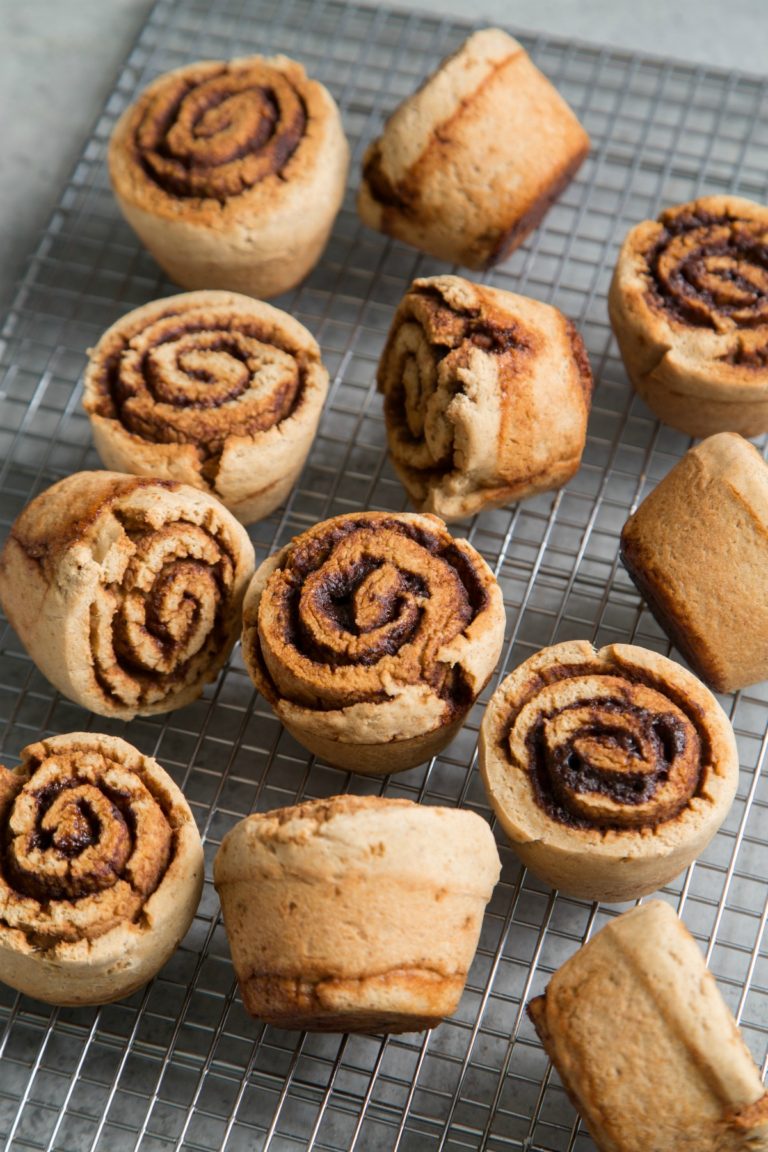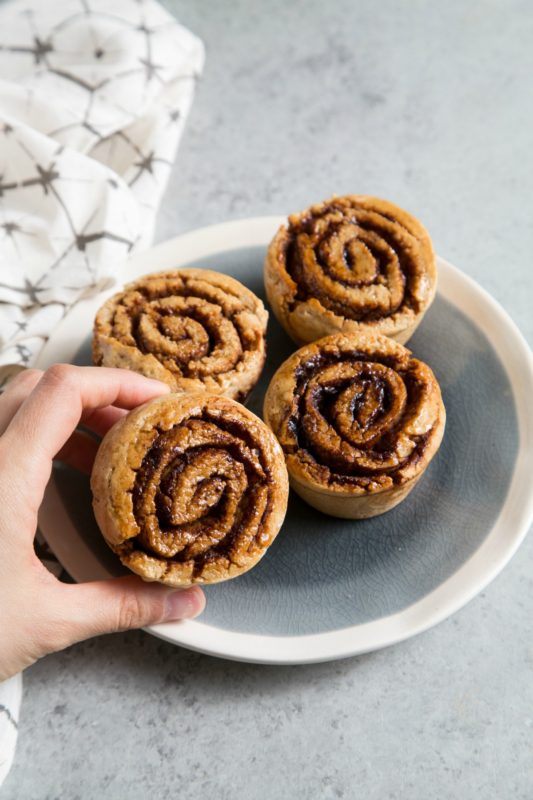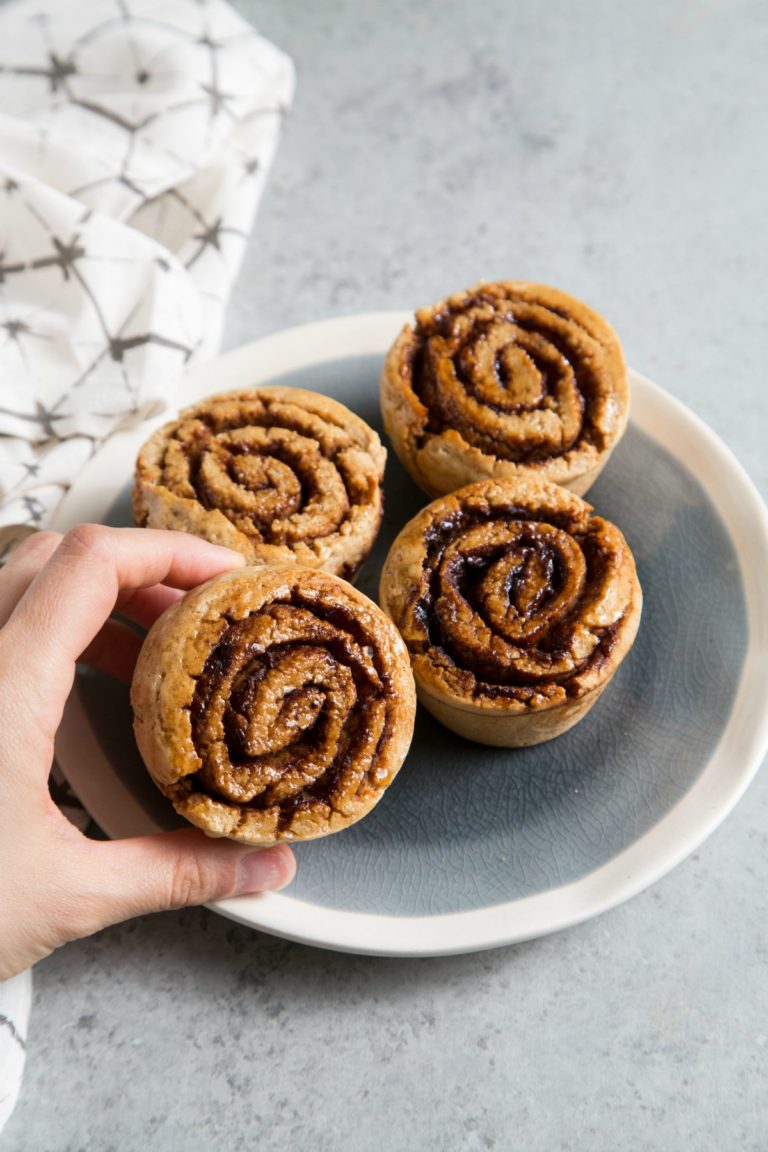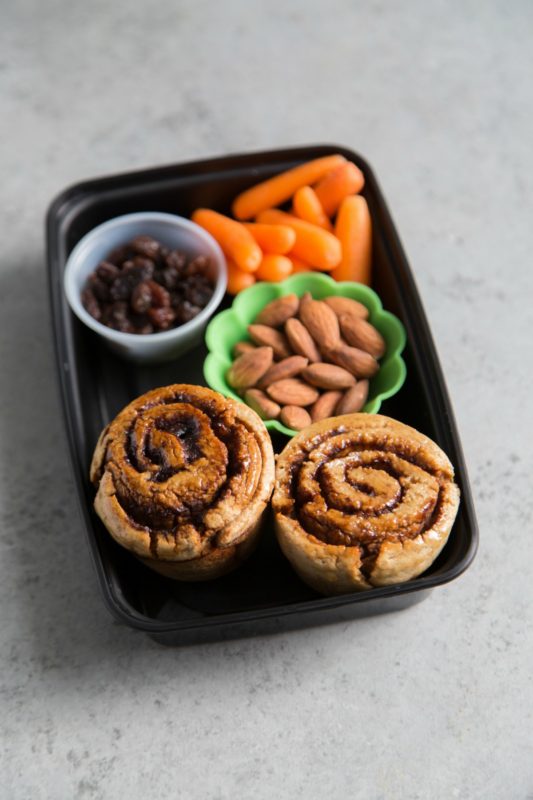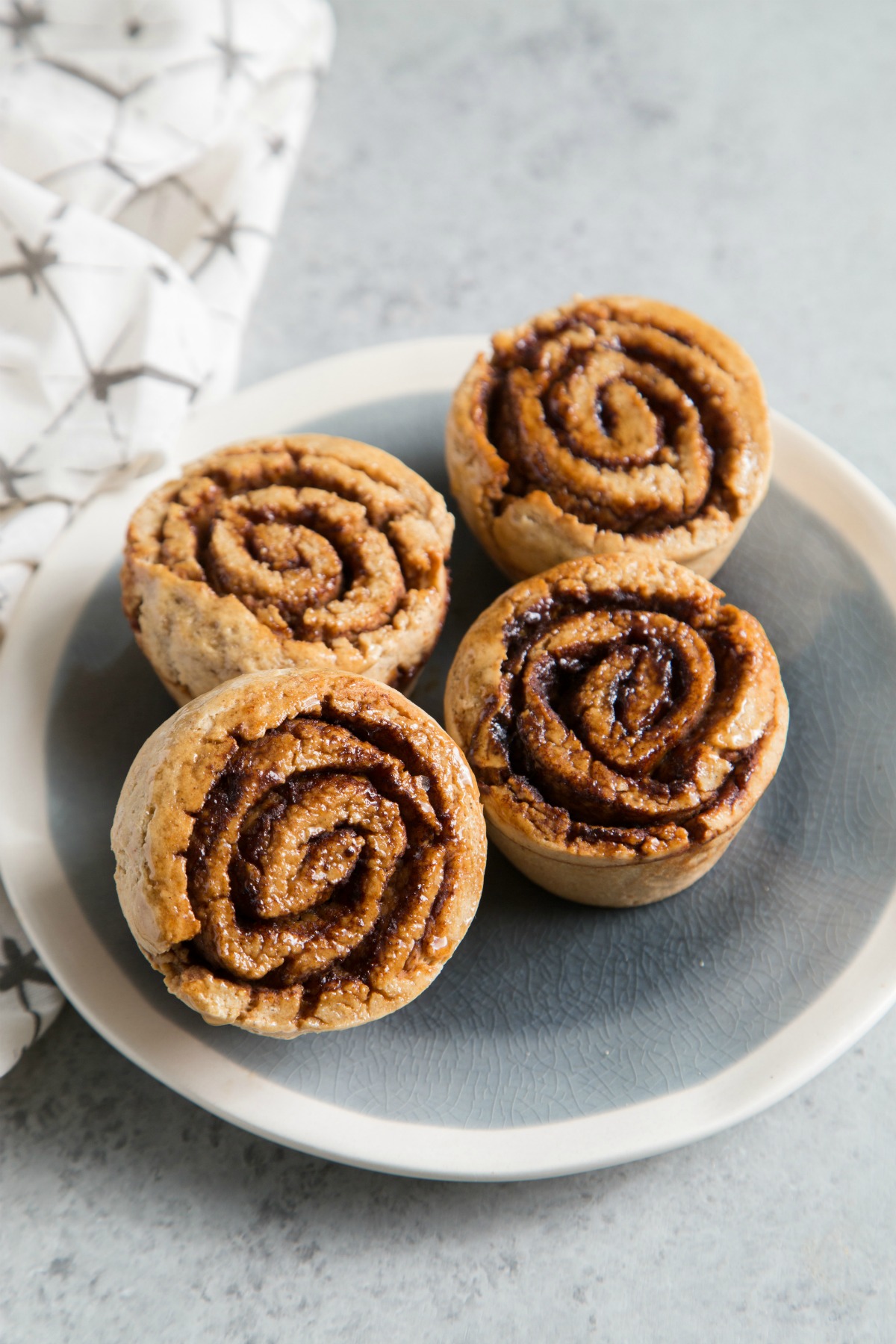 Ingredients
3.5

cups

gluten free flour blend

see notes

1.5

cup

oat flour

1/4

cup

ground psyllium husk

3

tbsp

coconut sugar

2 1/4

tsp

instant yeast

1

tsp

sea salt

2

cups

warm water

about 110 degrees

2

tbsp

coconut oil

melted

2

large

eggs
Filling
coconut oil spray

1/2

cup

coconut sugar

1.5

tbsp

ground cinnamon
Glaze
dark maple syrup

as desired
Instructions
In the bowl of a stand mixer fitted with a paddle attachment, mix together gluten-free flour blend, oat flour, psyllium husk, coconut sugar, instant yeast, baking powder, and salt. In another bowl, whisk together warm water, coconut oil, and eggs.

Add half of wet ingredients to dry ingredients. Mix on low speed. Add remaining wet ingredients. Continue to mix on low speed until batter starts to form. Increase speed tomedium and mix for 3-4 minutes. Scape down bowl as needed to ensure thoroughmixing. Dough will be a bit sticky and should look like thick cookie dough batter.

Transfer dough to a lightly oiled 18×13-inch parchment paper. Use your hands to gently pat dough into an 18×13-inch rectangle. Alternatively, use a small rolling pin. Lightly spray surface of dough with vegetable oil spray (cooking oil spray). In a small bowl, mixtogether coconut sugar and ground cinnamon. Sprinkle sugar cinnamon mixture over the dough.

With the long side facing you, use the parchment paper to help roll the dough into a tightcylinder. Pinch the seams closed. Use a sharp knife to cut the log into 12 equal rolls.

Grease a 12-cup muffin tin with cooking spray. Place cut rolls in muffin tin, Looselycover with plastic wrap. Allow rolls to rest for 1 hour at room temperature. Dough will puffup and fill the muffin tin cavity.

Preheat oven to 350 degrees F. Remove plastic wrap. Bake the rolls for 30-35 minutes until they are golden brown, rotating the pan midway through baking.

Allow rolls to remain in pan for 5 minutes. Remove from pan and place on wire rack tocool. Brush warm rolls with maple syrup, as desired. Serve rolls warm, or gently reheat in the microwave.

NOTE: We used Bob's Red Mill Gluten Free 1-to-1 Baking Flourblend. Results may vary with other gluten-free flour blends.
Video
Notes
Nutrition for 1 out of 12 rolls:
7g Protein | 47g Carbs | 5.5g Fat | 7g Fiber | 250 Calories
Nutrition
Serving:
1
roll
|
Calories:
250
kcal
|
Carbohydrates:
47
g
|
Protein:
7
g
|
Fat:
5.5
g
|
Fiber:
7
g