This Paleo bowl uses mashed cauliflower instead of potatoes for a Vitamin-C and fiber-rich breakfast. Topped with crisp smoky bacon, mushrooms, watercress, and a jammy egg, this bowl is the perfect vitamin-packed start to the day. 
Cauliflower is the star of the show here. Or maybe it's the soft-boiled eggs. Wait, no, it's the bacon. Maybe it's all of those ingredients? Combined together, they make for an AIP (autoimmune protocol) friendly meal you can count on in the form of cauliflower mash breakfast bowls.
The beauty of cauliflower is that it's kind of a blank slate. And so that means you can ask it to act like potatoes, which means you can do a whole lot with it, in terms of flavor. In this case, we're putting it to use for a breakfast bowl, but no one will think twice or judge you if you eat this for lunch. Heck, you can even have it for dinner, because we all know breakfast for dinner is always a winner.
How to Make Cauliflower Mash Breakfast Bowls
Earthy mushrooms combined with savory-salty bacon and the zip of some watercress make for a really interesting flavor combination. The cauliflower is boiled until soft, and then mashed with some almond milk and ghee, which gives it a nutty and buttery taste. (Yum!) The bacon and mushrooms are cooked in a separate skillet, which you can do while the cauliflower boils.
Substitutions and Alterations
We imagine a world in which you might not want to make soft-boiled eggs, and that's ok. They're very good with this dish because the yolk gets a little gooey and you can swirl it all in with the cauliflower mash. But go ahead and swap it for hard-boiled eggs, if you already meal prep those for the week. It'll save you some time. Your only loss is that gooey yolk action.
Don't like the peppery bite of watercress? That's totally cool. Use something else, like baby spinach or kale. Sometimes, even arugula is less peppery than watercress, and sometimes watercress can be hard to find.
The recipe calls for white button mushrooms which are arguably the easiest to find in the grocery store. But really, any kind of mushroom works well here, so feel free to use your favorite. They add a welcome earthiness to these cauliflower mash breakfast bowls.
If you're following a strict AIP protocol, you might want to use coconut or tigernut milk instead of almond milk. However, if you know you're nonreactive to almond milk, feel free to use it.
If you don't have the Paleo Powder Pink seasoning (but you should try to get it, it's great), it's a combination of Himalayan pink salt, chili powder, garlic powder, black pepper, onion powder, white pepper, cumin, and cayenne pepper. Feel free to experiment with these seasonings and peppers on your own. It's good on so many things, including eggs, chicken, pork, and any kind of beef, really. (We'd even sprinkle it on popcorn, but only if that's part of your diet.)
(Can't let go of mashed potatoes? That's ok, we feel you. Try this classic meal of Instant Pot Roast with Mashed Potatoes.)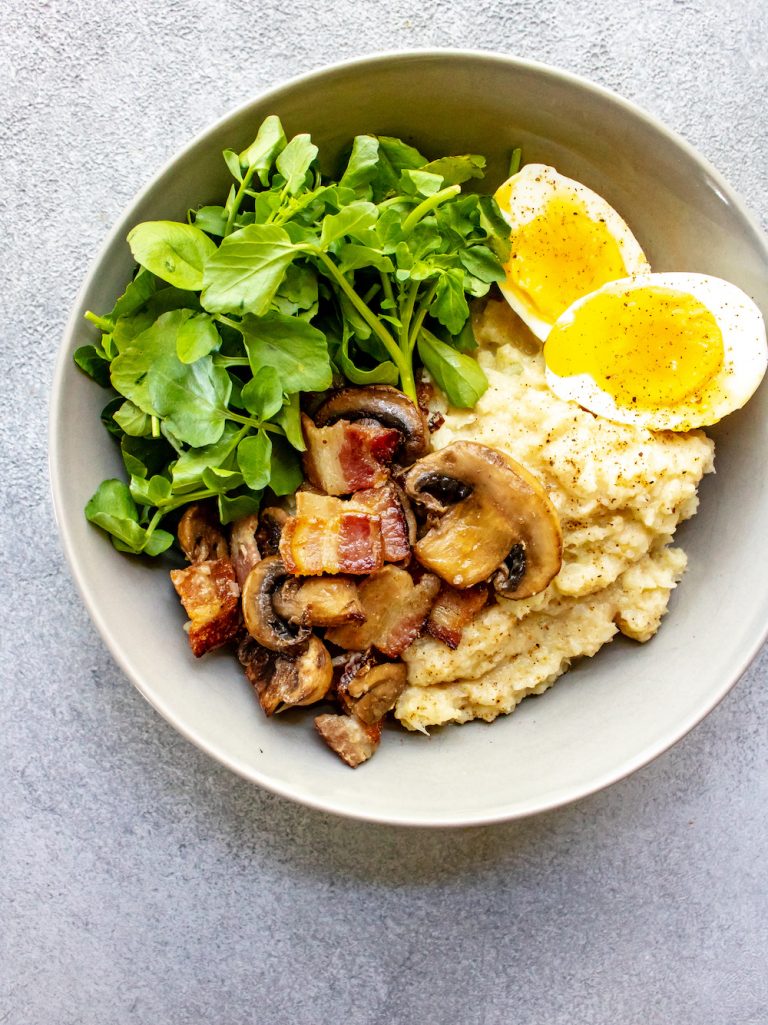 READ MORE: 10 Healthy Alternatives to Mashed Potatoes!
Cauliflower Mash Breakfast Bowls Ingredients:
6 cups cauliflower florets

½ cup unsweetened almond milk 

1 tbsp. butter or ghee 

4 strips bacon, cut into 1-inch pieces 

5 oz. sliced white button mushrooms 

4 eggs, soft boiled 

4 cups watercress