Are you ready for fried chicken with a twist? Our recipe for Air Fried Chicken Schnitzel is just what you're looking for! Schnitzel is a recipe that found its way to Germany through Austria, and there are variations of the dish. They make schnitzel with pork, veal, beef, or chicken. They pound the meat for thinning and then deep-fry it to a golden, crispy piece of perfection. Our recipe makes for a healthy and easy dinner idea. Instead of deep-frying, we air fry chicken breast that's coated with gluten-free flour. We pair Air Fryer Chicken Schnitzel with potatoes and broccoli for a comforting home-cooked meal for lunch or dinner.
This German flavor gets a low fat makeover using the air fryer to crisp chicken instead of frying in oil. The end result is tender, crispy chicken that is Whole30 compliant! 
How long will Air Fried Chicken Schnitzel last for?
Your complete Air Fryer Chicken Schnitzel meal will last for up to 4 days in the refrigerator. For maximum freshness, store and keep your meal in an airtight container.
Can Air Fried Chicken Schnitzel be frozen?
Yes, you can. Put the chicken in a shallow, freezer-friendly container or wrap each piece in aluminum foil and stick them in a freezer bag. As for the roasted vegetables, we don't recommend freezing those. But if you do, leave the vegetables slightly undercooked. Air Fryer Chicken Schnitzel will last for 6 to 12 months in the freezer, depending on the temperature.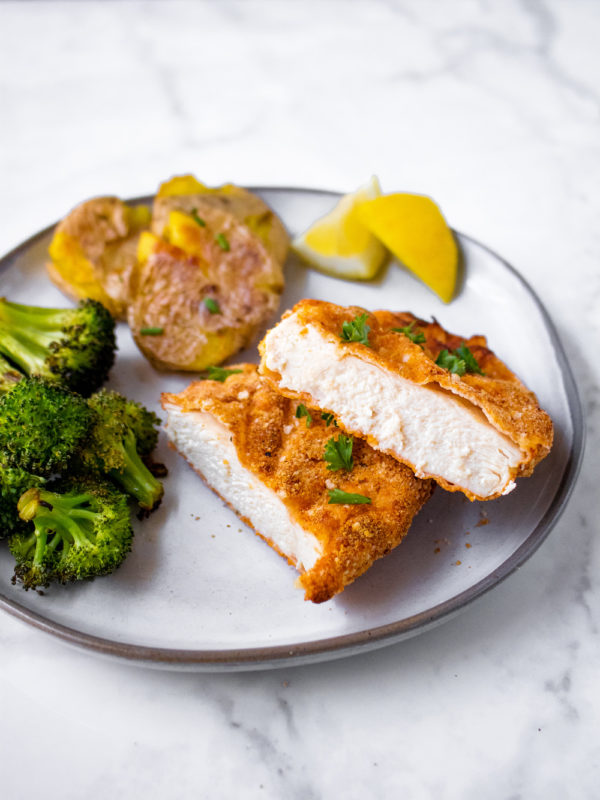 Air Fried Chicken Schnitzel
Ingredients:
4 boneless skinless chicken breasts 

2 large eggs 

3

tbsp

arrowroot flour 

2/3 cup blanched almond flour 

1 tsp paprika

1/4 tsp garlic powder 

1/2 tsp sea salt 

1/8 tsp cracked black pepper 
For serving
4 cups broccoli florets 

16 oz. air fried baby potatoes

2

tbsp

melted ghee

1/4 tsp sea salt

1 tsp minced chives 

Lemon wedges 
How do you make Air Fried Chicken Schnitzel?
Since we're using an air fryer, this will be a simple recipe to cook and serve. Grab all of your ingredients and start by pounding the chicken between two sheets of parchment paper. Once you pound the chicken to half-inch pieces, beat your eggs in a shallow bowl. Get two more shallow bowls for the flours. Use one for the arrowroot flour and the other for the almond flour and seasonings. Now you're all set up for dredging the chicken!
Start with two pieces of chicken at a time. Dredge the first piece of chicken in the arrowroot flour, shaking off excess flour. Then dip that piece into the eggs, followed by dredging it in the almond flour mixture. Dredge the second piece the same way. Fry both pieces of chicken in your air fryer for 9 minutes at 390 degrees. Flip the chicken and continue to fry for another 9 minutes. Repeat this process for the other pieces of chicken. As your chicken cooks, start roasting the vegetables. Preheat your oven to 425 degrees and line a baking sheet with parchment paper. Place broccoli and potatoes on the pan, gently mashing the potatoes to flat. Pour ghee over both the broccoli and potatoes, then bake for 20 minutes. When the vegetables finish cooking, sprinkle chives on the potatoes and sea salt onto the broccoli.
That's it! Your Air Fryer Chicken Schnitzel meal is complete in less than one hour. Wasn't that an easy dinner idea?
How to portion Air Fried Chicken Schnitzel?
Divide your meal into 4 dual-compartment meal prep containers with one piece of chicken Schnitzel and three potatoes per container. Add 1 cup of broccoli to each container. Don't forget a lemon wedge next to the chicken for flavorful zest!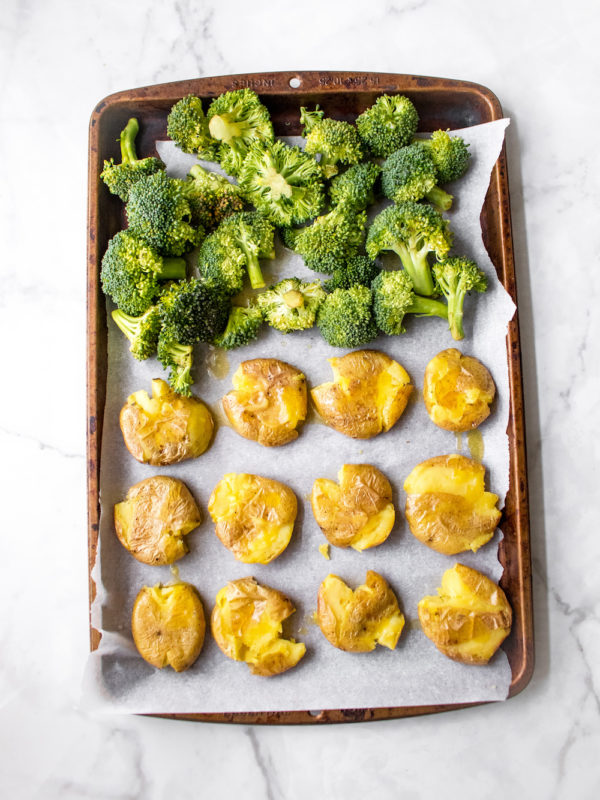 More Air Fried Chicken meal prep recipes:
Air Fryer Garlic Parmesan Chicken Wings
For more air fryer recipes, check out these 25 Air Fryer Recipes That Will Change The Way You Meal Prep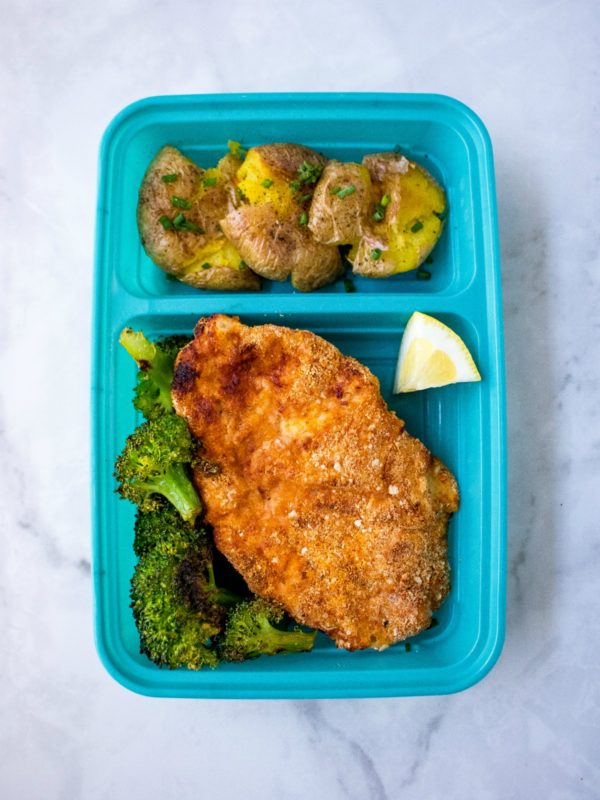 Other tips for making Air Fried Chicken Schnitzel:
You can pound the chicken between parchment paper or in a plastic bag.
Pound the chicken with a wooden mallet, rolling pin, or heavy bottom pot or pan.
If you don't have an air fryer, you can fry the chicken in a cast-iron skillet with olive oil.
Substitute the chicken for veal, beef, or pork.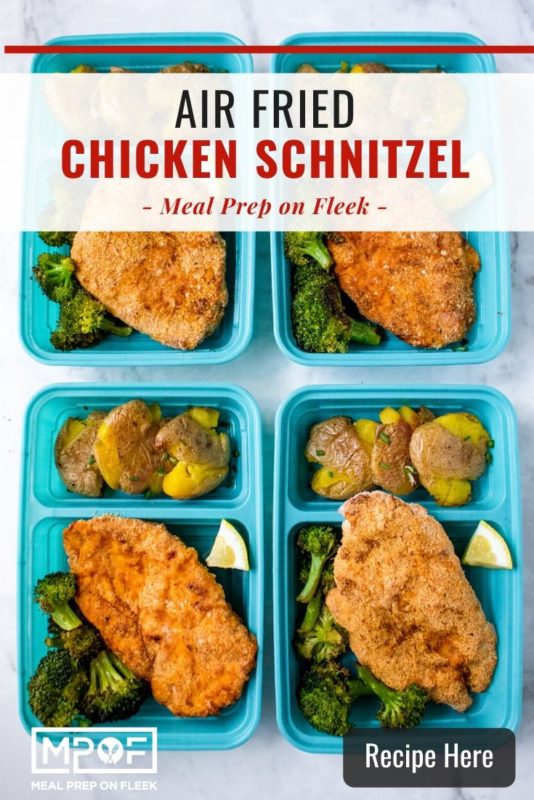 Ingredients
4

boneless skinless chicken breasts

1 pound

2

large

eggs

3

tbsp

arrowroot flour

2/3

cup

blanched almond flour

1

tsp

paprika

1/4

tsp

garlic powder

1/2

tsp

sea salt

1/8

tsp

cracked black pepper
For serving
4

cups

broccoli florets

16

oz.

air fried baby potatoes

2

tbsp

melted ghee

1/4

tsp

sea salt

1

tsp

minced chives

Lemon wedges
Instructions
Pound each chicken breast between 2 sheets of parchment paper to approximately 1/2 inch thick. Beat eggs in a shallow bowl. Add arrowroot flour to another shallow bowl and stir together almond flour, paprika, garlic powder, sea salt and black pepper in a 3rd shallow bowl or plate.

Starting with two pieces of chicken, dredge each piece of chicken in arrowroot flour to coat on all sides shaking off excess flour, then dip in egg and dredge in almond flour mixture. Place in the basket of air fryer. Fry for 9 minutes at 390ºF. Use tongs to gently flip chicken and air fry for 9 minutes longer. Place chicken on a plate and cover to keep warm. Repeat process with the remaining 2 pieces of chicken.

While chicken cooks, preheat oven to 425ºF and line a medium baking sheet with parchment paper. Spread broccoli florets on the top half of the baking sheet and drizzle with 1 tablespoon of melted ghee. Place potatoes on a baking sheet and use the bottom of a glass to press each Potato to gently smash. Drizzle with remaining tablespoon of ghee and roast for 20 minutes. Garnish potatoes with chives and sprinkle sea salt on broccoli.

Place 1 chicken schnitzel in a large compartment of 4 MPOF teal containers. Place 3 smashed potatoes in the small compartment. Divide broccoli between large compartments next to chicken schnitzel. Add 1 lemon wedge next to each piece of chicken.
Nutrition
Calories:
550
kcal
|
Carbohydrates:
35
g
|
Protein:
42
g
|
Fat:
26
g
|
Sodium:
785
mg
|
Fiber:
6
g
|
Sugar:
5
g