Whether you're trying to plan meals for your family or stick to your health goals, these meal planning apps take a ton of work off your plate.
Meal planning offers numerous benefits, such as enhancing diet quality, encouraging culinary exploration, and facilitating weight loss. Moreover, it proves advantageous for your finances, as it minimizes excessive grocery purchases and food waste, while also reducing the need for takeout orders by having a well-prepared weekly menu. However, meal planning can be time-consuming and overwhelming, especially for beginners.
Fortunately, meal planning apps serve as effective solutions to address these challenges. Instead of manually creating weekly recipes and shopping lists, these apps automatically handle these tasks. They also consider dietary preferences and restrictions, simplifying the process of finding suitable recipes. Additionally, these apps often track macros and calories, as well as store your favorite recipes conveniently.
Whether you aim to shed some pounds or seek assistance with organizing family meals and weeknight dinners, there's an ideal app to suit your needs. In this guide, we present seven top-rated meal planning apps, examining their pros and cons. Additionally, we provide a comprehensive guide to help you narrow down your choices.
It's essential to note that the content's purpose is to inform and not to offer medical advice. It is not intended for diagnosing, preventing, or treating health issues. Always consult with your doctor before beginning any new supplement or exercise routine.
Our Picks for the Best Meal Planning App: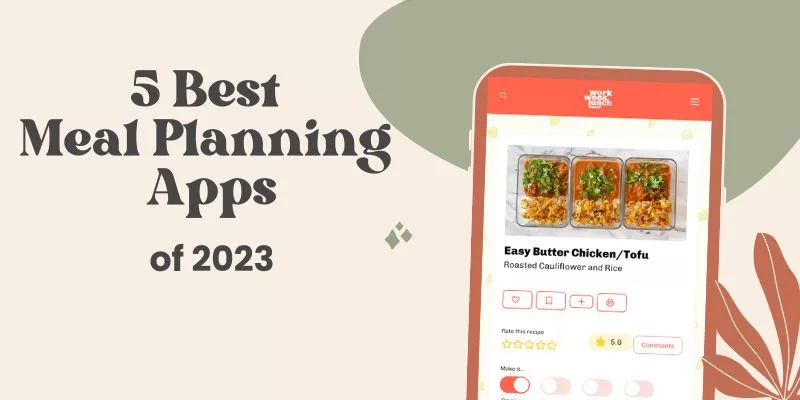 Best Free Meal Planning App: Mealime
Mealime is one of the most comprehensive. There are existing meal plans that you can utilize, or you can completely build your own from scratch. If you opt for one of the existing meal plans, you do have the option to edit it by removing any recipes you don't like and adding ones that you do. If you choose a from-scratch plan, you'll start with the app's recipe database and completely build your plan from the ground up.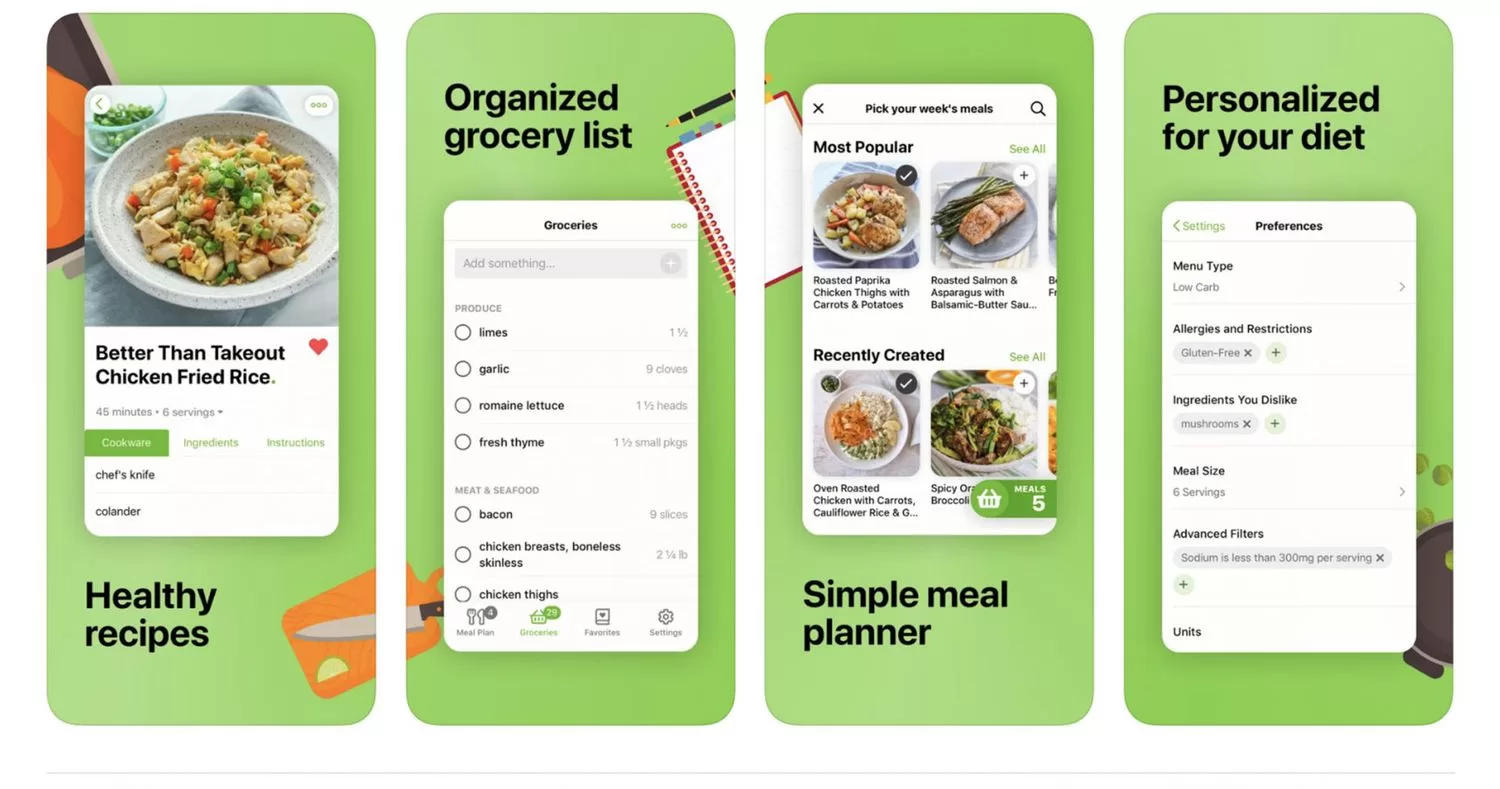 Key features:
Recipe database
Grocery list creation
Ability to share plan and lists with others
Available on iOS and Android
There are breakfast, lunch, dinner, snack and dessert options available. In the free version, you can filter by dish type and any dietary preferences or allergens. You can also navigate to the most popular or quickest meals if you're short on time. Once you've built your meal plan, the app will automatically populate a shopping list for you with everything you need to cook them. You can also add or delete ingredients at your discretion if you already have something on hand or need to supplement the meal plan with other items. If you're using the app with someone else—say a partner that's stopping at the grocery store on the way home—there's also an option to share the shopping list.
If you want to upgrade to the pro version, you'll also get access to nutritional information for each recipe, calorie filters in the recipe database and the option to add notes to an individual recipe about any changes you may have made. You'll also be able to access previous meal plans so you can refer to them again later instead of recreating them from scratch. The upgraded version does have a small monthly recurring fee.
Pros:
Existing meal plans available
Automatically populates grocery shopping list
Can filter recipes by food preferences or allergens
Cons:
Basic version doesn't have as many features as paid version
Best Meal Planning App for Weight Loss: PlateJoy
PlateJoy is all about streamlining the meal planning process to help you reach your weight loss goals. When you sign up, you're asked a series of questions about your dietary restrictions and preferences (like if you prefer to eat meat or not). You also have the option to follow a specific meal plan, like Mediterranean, low-carb, vegan or paleo (to name a few), or just pick and choose certain likes and dislikes, such as avoiding avocado, eggs, dairy or gluten. Once you've got your food preferences nailed down, the app also asks about access to prep and cooking supplies, like a pressure cooker or a blender.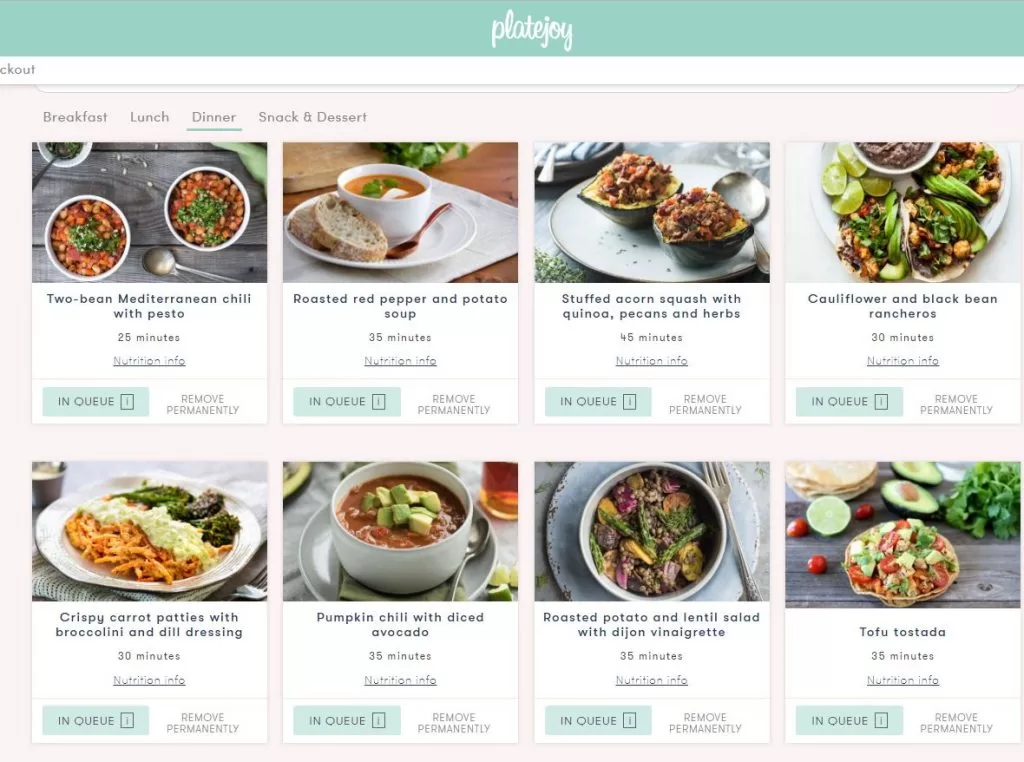 Key Features:
Specific diet meal plans
Automatic grocery lists
Digital pantry
Available on iOS and Android
From there, the app populates a personalized meal plan from its recipe database based on your calorie goals—you can add your own calorie goals or ask the app to suggest one for you based on your overall weight loss goals. Once you go through and approve the weekly meal plan, you'll get a grocery list of everything you need to cook the recipes.
You can also keep a "digital pantry" on the site. This is basically an inventory of what you have in your kitchen. When the app populates your grocery list from your meal plan, it will automatically take into account what you already have to reduce food waste and help you save some money. The app is also integrated with grocery delivery services, Instacart and Amazon Fresh. Once your grocery list is populated, you can click the option to order online instead of going to the store.
PlateJoy is a subscription service—you can choose to pay monthly or opt for a six- or 12-month recurring subscription. If you commit to the longer plan, the overall app cost goes down significantly.
Pros:
Many customization options for meal plans
Creates grocery lists for you
Can order grocery delivery through the app
Cons:
Can't build a meal plan from scratch
Best Meal Planning App for Families: Cozi
Cozi is designed to help families keep schedules organized. While there are appointment and practice reminders, family meal planning is a big part of the app. There's a recipe database that has Cozi's own recipes, as well as recipe collections compiled from popular family magazines. You can also add recipes via a URL from a website or enter your own recipes step-by-step from scratch.
Key Features:
Family meal calendars
Manual grocery lists
Recipe sharing via URLs
Available on iOS and Android devices
The app integrates with both Chrome (Android) and Safari (iOS), so if you're browsing a website and you find a recipe you like, you can simply click the share button and send it right to the app. When all of your recipes are loaded, you can manually create meal plans by choosing a recipe and adding it to a specific slot in your family calendar. You can plan a week in advance and share the recipes with any family members who have the app to help with grocery shopping or just to keep them in the know.
Once the meal plan is created, you can add ingredients to your grocery list through each individual recipe. Cozi doesn't automatically populate the list for you, but it compiles everything in one place so you don't have to create a separate list outside of the app.
In addition to meal planning, Cozi has a handful of other family management features, including aggregated family calendars, to-do and chore lists and a daily agenda that highlights everything from your family's calendars.
Pros:
Comes with a recipe database
Can also add your own recipes
Can share meal plans with family members in the app
Cons:
Grocery lists don't populate automatically
Many meal planning apps give you the option to filter by vegan meals, but they can have limited options. Forks Over Knives, which is 100 percent vegan, has more than 1,000 recipes at any given time, and new recipes are added weekly. Rather than just eliminating animal-based foods, the focus is on healthy recipes that incorporate a lot of whole foods for optimal nutrient density.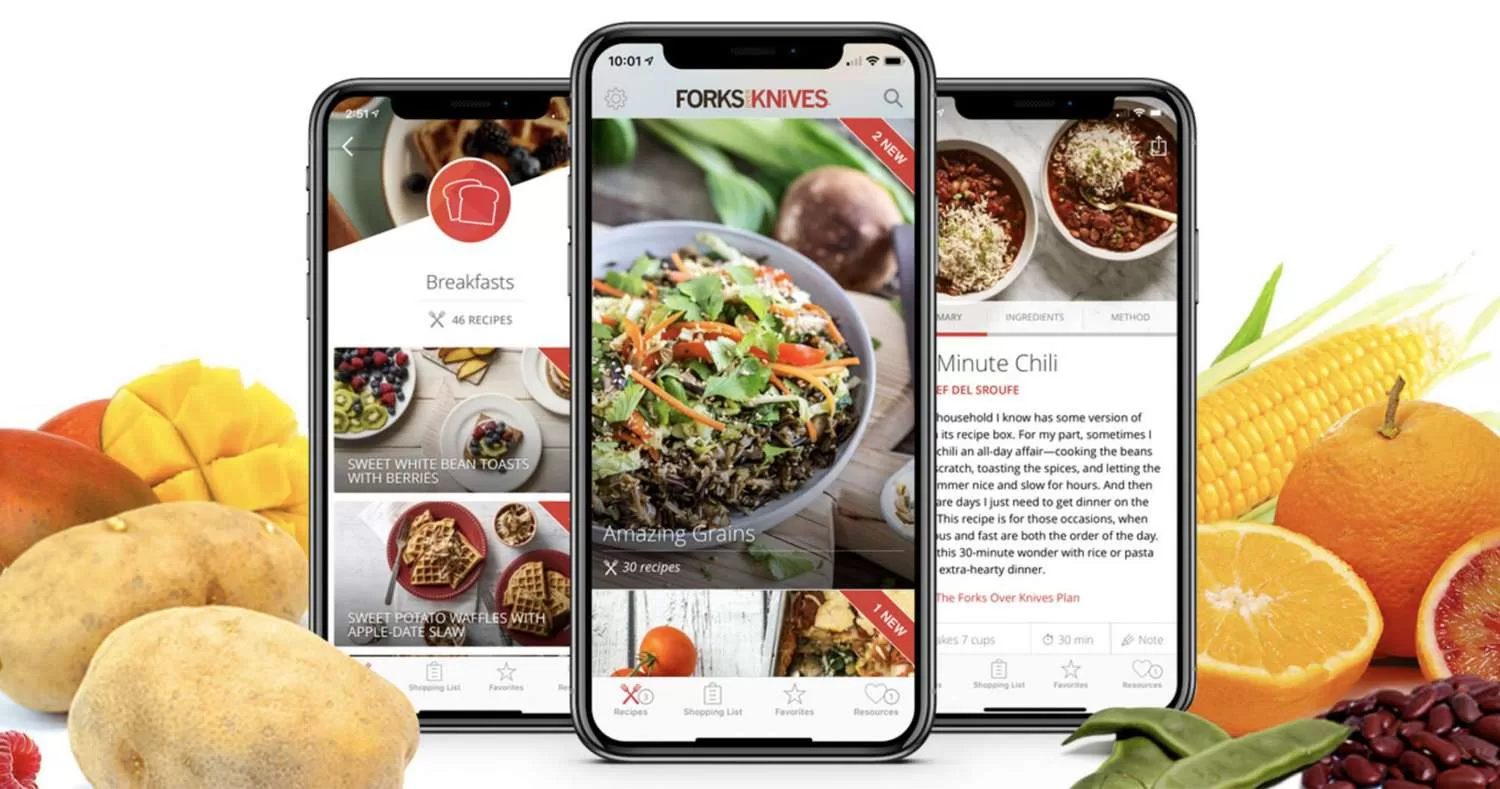 Key Features:
Chef- and nutritionist-created meals
Automatic or manual meal plans
Serving size adjustments
Available on iOS and Android devices
There are breakfast, lunch, dinner and snack recipes that are categorized by type—like soups, salads and sides—for easy browsing. When you see one you want to try, you can add it to your recipe box and/or build your own meal plan. You can also take advantage of chef-curated meal plans in the app. If you opt for the latter, a chef will build a weekly plan for you based on your specific dietary needs, like soy-free, gluten-free and/or nut-free. If there's a meal you don't like, you can swap it for any of the recipes in the database. You can also move recipes to different days.
Serving sizes are adjustable, too. For example, you can opt for half-size servings if you just want a meal for yourself, or you can double servings to feed a family, meal prep or batch cook. Once you approve your meal plan, the app automatically creates a customizable, interactive grocery list for you. You can add to it or remove items and check things off as you shop.
Pros:
Can opt for chef-curated meal plans
More than 1,000 vegan recipes
New recipes added weekly
Cons:
Need to upgrade to paid plan for full access
Best Meal Planning App for Intuitive Eating: Workweek Lunch
The WWL Program is the only meal plan service that's aligned with intuitive eating. We help you save time, money and energy while enjoying food freedom (not food restriction). We LOVE carbs! And we don't share calories on recipes.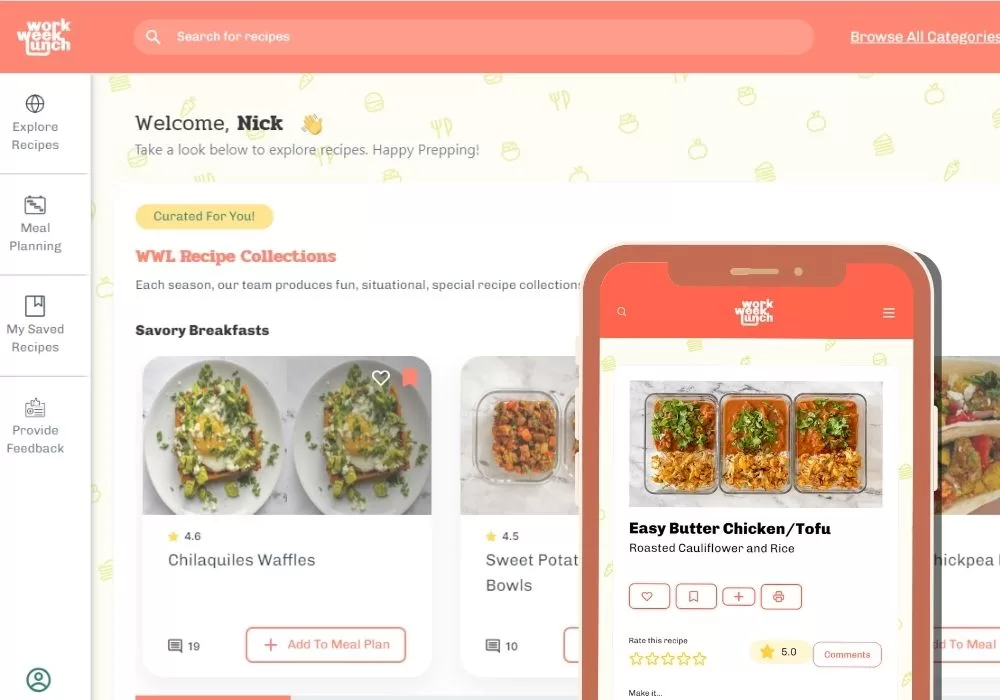 Key Features:
650+ Ad Free Recipes
Weekly Meal Plan delivered to your inbox
Private Intuitive Eating community discussion
NO diet or calorie counting, ever
WWL is an online meal plan subscription, food blog and cookbook dedicated to helping people all over the world make meal prep happen to get more out of life. Our food philosophy is aligned with Intuitive Eating and we're here to help you develop a system around food that supports the lifestyle you want.
Pros:
Recipes are super tasty
Web based app, so it works well on mobile and desktop
Customer meal planning option
Grocery list builder
Cons:
Meal planner is part of the Pro plan only