Vegan Thai Chili Tofu Sheet Pan Meal Prep
Thai cuisine is one of the healthiest in the world because of the use of fresh ingredients and spices that are rich in antioxidants. It has been said that, because of this, obesity and heart problems are at their lowest in southeastern cultures. Thai dishes are usually prepared lightly with a strong aroma and use of various spices which add tons of flavor to their dishes.
Thais love putting chili on all of their dishes as it gives an extra boost to their appetite and provides additional flavor to their dishes, but don't worry, our meal prep for today won't melt your face off… we toned it down so you could decide what the right amount of heat is for you.
Tofu Health Benefits:
The main ingredient in this meal prep is the tofu. Tofu is made from soy milk which is heated to coagulate. The curds are then pressed to cubes to varying softness (can be silken, soft, firm, or extra firm). Tofu is a staple in East and Southeast Asia due to its availability and long-standing cultural tradition. Tofu, in its original taste, has subtle to no flavor at all, so it is a favorite ingredient by most people as it can easily blend with all dishes because it takes on the flavors of whatever dish it's in.
Tofu is low in calories but high in iron, protein, and calcium or magnesium (depending on the coagulants used in manufacturing). Tofu is a favorite meat substitute for people who are watching their weight and is Keto-friendly.
This meal prep doesn't have any meats so it is also perfect if you're looking for more plant-based meal prep recipes. Tofu is used as a meat substitute since it is also a good source of protein and also adds texture to most dishes..
What makes this meal prep healthy and nutritious? This dish has 13.7g of protein, 50.2g of carbs, 15g of fat, and 5.4g of fiber.
In this meal prep, we will use extra firm tofu. Read the packaging carefully when buying tofu. You may accidentally pick the soft tofu. Soft tofu is ideal for soups and not for frying or baking. The extra firm tofu can be easily cut into cubes and ideal for baking or frying.
Thai Chili Tofu Sheet Pan Meal Prep Ingredients:
Crispy Tofu
1 12-ounce package of extra firm tofu
3 tablespoons coconut aminos
1 tablespoon sesame oil
1 tablespoon arrowroot
⅛ teaspoon sea salt
Sheet Pan
2 cups broccoli, chopped
1 1/2 cups baby corn
1 ½ cups pineapple, cubed
1 large red bell pepper, sliced
½ cup cashews
½ cup Thai sweet chili sauce
1 lime
½ cup basil, to garnish
¼ cup cilantro, optional, to garnish
This meal prep requires 45 minutes of preparation and cooking time. This dish can also be prepared in one sheet pan. Preheat the oven for 425F while preparing all the ingredients. Before cutting the tofu into small cubes, make sure to remove the excess liquid. You may either put it in a strainer or use a paper towel. After cutting the tofu into small cubes, season it with arrowroot, sesame oil, salt, and coconut aminos. Bake the tofu for 20 minutes in a sheet pan. While waiting for the tofu to be baked, mix the rest of the ingredients in a bowl. Don't forget to drizzle it with lime juice and Thai chili sauce. After 20 minutes of baking time, and add the rest of the ingredients into the sheet pan, putting the tofu on one side of the pan and the veggies on the other side and bake it for another 10-12 minutes or until the veggies are tender. Make sure all the ingredients that you will use are all fresh to achieve that authentic Thai preparation and taste.
For the garnish, you can either add fresh basil, chopped cilantro, or onion leeks.
It may take longer time to prepare, but I can assure you that this dish is a winner to your taste buds!
This meal prep can serve four people and can be eaten together with steamed white or brown rice or cauliflower rice or can be eaten as is for those who are watching their carbohydrate intake.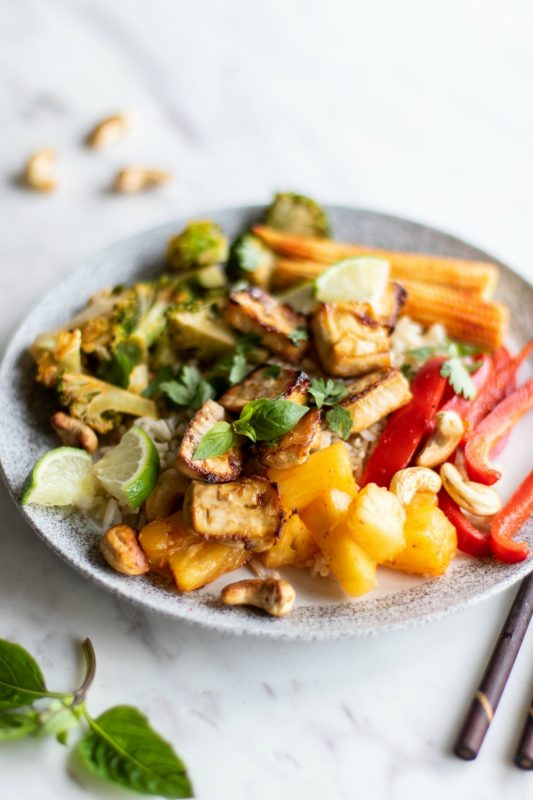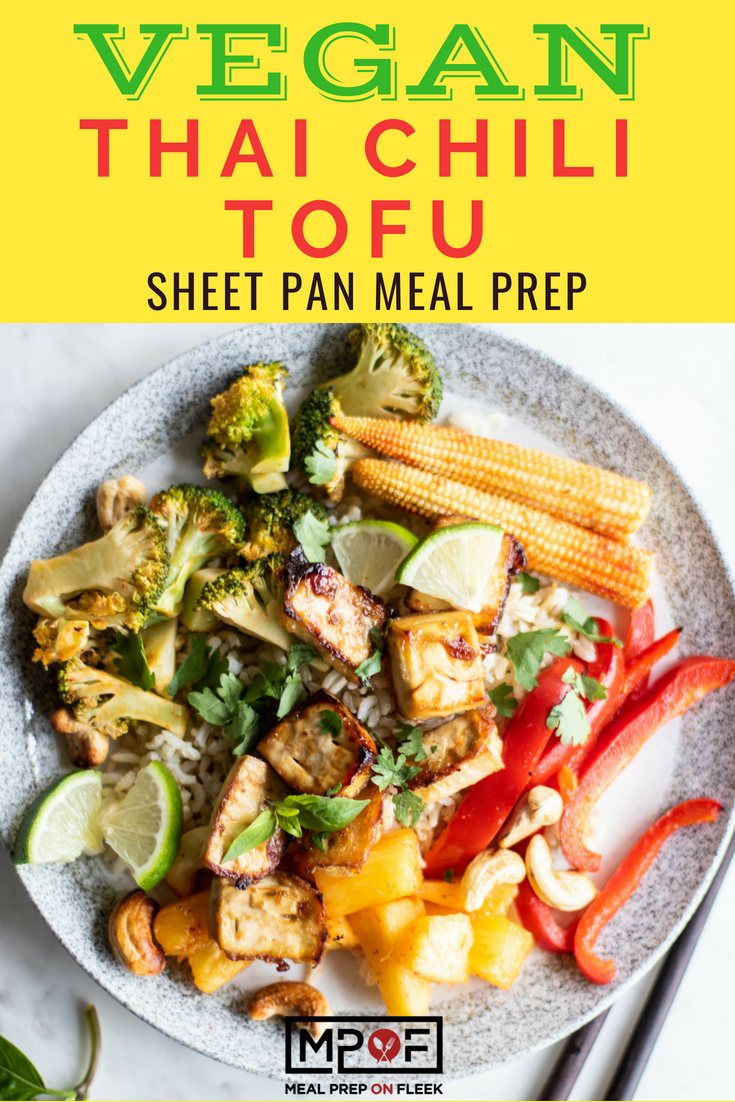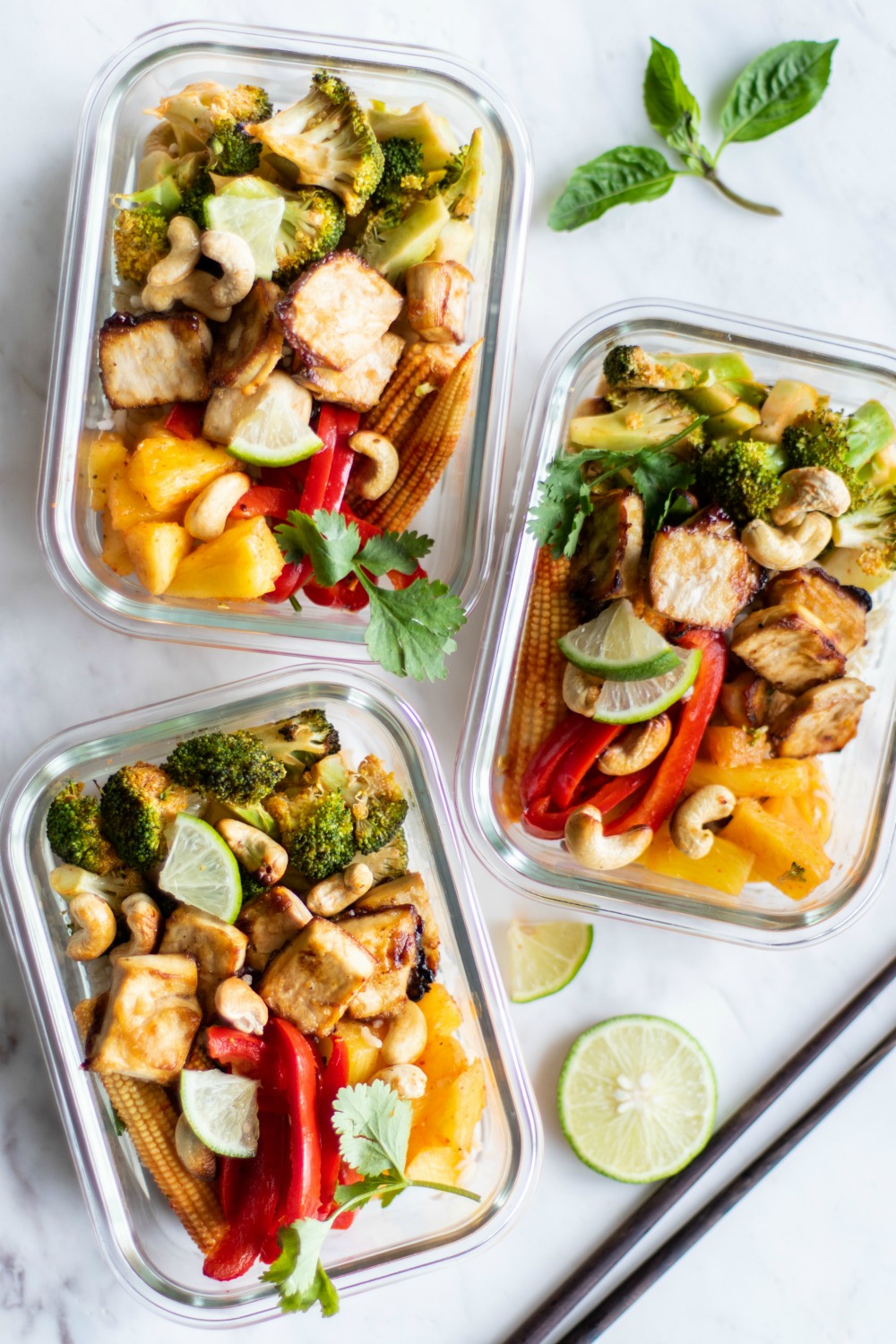 Ingredients
Crispy Tofu
12

ounces

extra firm tofu

3

tbs

Coconut Aminos

1

tbs

sesame oil

1

tbs

arrowroot flour

1/4

tsp

Sea Salt
Sheet Pan
2

cups

Broccoli

chopped

1 1/2

cups

baby corn

1 1/2

cups

pineapple

cubed

1

large

bell pepper

sliced

1/2

cup

cashews

1/2

cup

Thai Sweet Chili Sauce

1

lime

1/2

cup

basil

for garnish

1/4

cup

cilantro

for garnish (optional)
Instructions
Cut tofu into cubes, then place between paper towels, and press down using a tofu press or heavy cutting board. Allow the excess moisture to drain from the tofu for 10-20 minutes while preparing the rest of the ingredients.

Preheat oven to 425 degrees F.

Take pressed tofu cubes, and carefully place them in a bowl, and coat them with arrowroot, sesame oil, and sea salt. Drizzle on the coconut aminos.

Lay tofu out on a baking tray, and bake for 20 minutes. The tofu should be brown and crispy.

Add all the veggies and pineapple to a bowl, and drizzle with Thai chili sauce and lime juice. Stir to coat.

Move the tofu to one side of the baking sheet, and add the veggies and pineapple. Sprinkle the cashews over the top. Bake for another 10-12 minutes, until veggies are tender.
Notes
Nutrition for 1 out of 4 servings:
13.7g Protein | 50.2g Carbs | 15g Fat | 5.4g Fiber
Nutrition
Serving:
1
meal
|
Calories:
390.6
kcal
|
Carbohydrates:
50.2
g
|
Protein:
13.7
g
|
Fat:
15
g
|
Fiber:
5.4
g