Thank you to Now Foods for sponsoring this Berry Protein Pancake Bites recipe post, and thank YOU for supporting the brands that help make Meal Prep On Fleek possible. All opinions are our own.
Get a dose of protein with these protein bites made in mini muffin cups for a perfectly portioned breakfast. They are great for on-the-go munching and filled with three berry flavors for a pop of fruity flavor in every bite.
Everything is more fun in mini size, right? That's why these Berry Protein Pancake Bites not only make breakfast fun and delicious but nutritious and extra easy to prepare! Not only did I add a punch of protein to these pancakes, but they have very little sugar, thanks to the monk fruit sweetener.
If you're new to Meal Prep On Fleek, then you haven't seen or read about all the reasons why I love using the NOW Foods Organic Monk Fruit Sweetener. Let me give you a quick rundown! My favorite reason is that it contains no sucralose, aspartame, or other funky additives that give you an icky aftertaste in your mouth. It's also perfect for a keto, diabetic, vegan, gluten-free, etc., etc., etc., diet. 😉 If it's a diet you follow, then you can enjoy this sweetener!
So, now that I've convinced you to use the monk fruit sweetener in any recipe that calls for a dry sugar moving forward, we can proceed with our recipe! 😋
Pancakes are no longer just for weekends! These perfectly poppable little bites make eating on the go easy for both kids and adults alike. Plus, with the added protein, they are sure to sustain you until lunch!
How To Make These
I used gluten-free flour and whey protein powder. However, if desired, you can use regular AP flour, oat flour, etc., and sub the protein powder with additional flour. I haven't tested these with a vegan protein powder, but if you give it a try, let me know how it turns out!
To keep these low in sugar, the monk fruit sweetener is a must!
Make sure not to overmix your batter here! If they are overmixed, the protein pancake bites will get a little chewy/rubbery. Instead, you want to mix them just until everything is incorporated together. Then, gently fold in your berries!
Customizing
One of the things I love to do when meal prepping is to make sure that the recipes are easy to customize. We all have different tastes, ingredients on hand, and budgets, so making recipes customizable makes a recipe a win for all of us. For example, I went with mixed berries, but you could use any berries or add in things like chocolate chips, nuts, bananas, shredded coconut, etc.
For Serving
I wanted a bit more protein alongside my Berry Protein Pancake Bites, so I served these with cottage cheese and more fruit. You could leave the cottage cheese plain or sweetener with liquid monk fruit sweetener. Lately, the new caramel liquid monk fruit sweetener has been my go-to for everything!
Instead of the cottage cheese, you could serve these with scrambled eggs and sausages or yogurt and peanut butter or maple syrup for dipping!
Berry Protein Pancake Bites Ingredients:
1 cup 1:1 gluten-free flour (or regular AP flour)

½ cup vanilla whey protein powder (can sub with additional flour)

½ teaspoon baking powder

¼ teaspoon salt

1 cup whole milk

1 large egg

½ cup chopped mixed berries (blueberries, strawberries, raspberries)
For Serving
1 cup mixed berries

3 cups low-fat cottage cheese
P.S - If you're looking for more ways than just these Berry Protein Pancake Bites to use the monk fruit sweetener, check out these other recipes! We've got you covered with both sweet and savory options!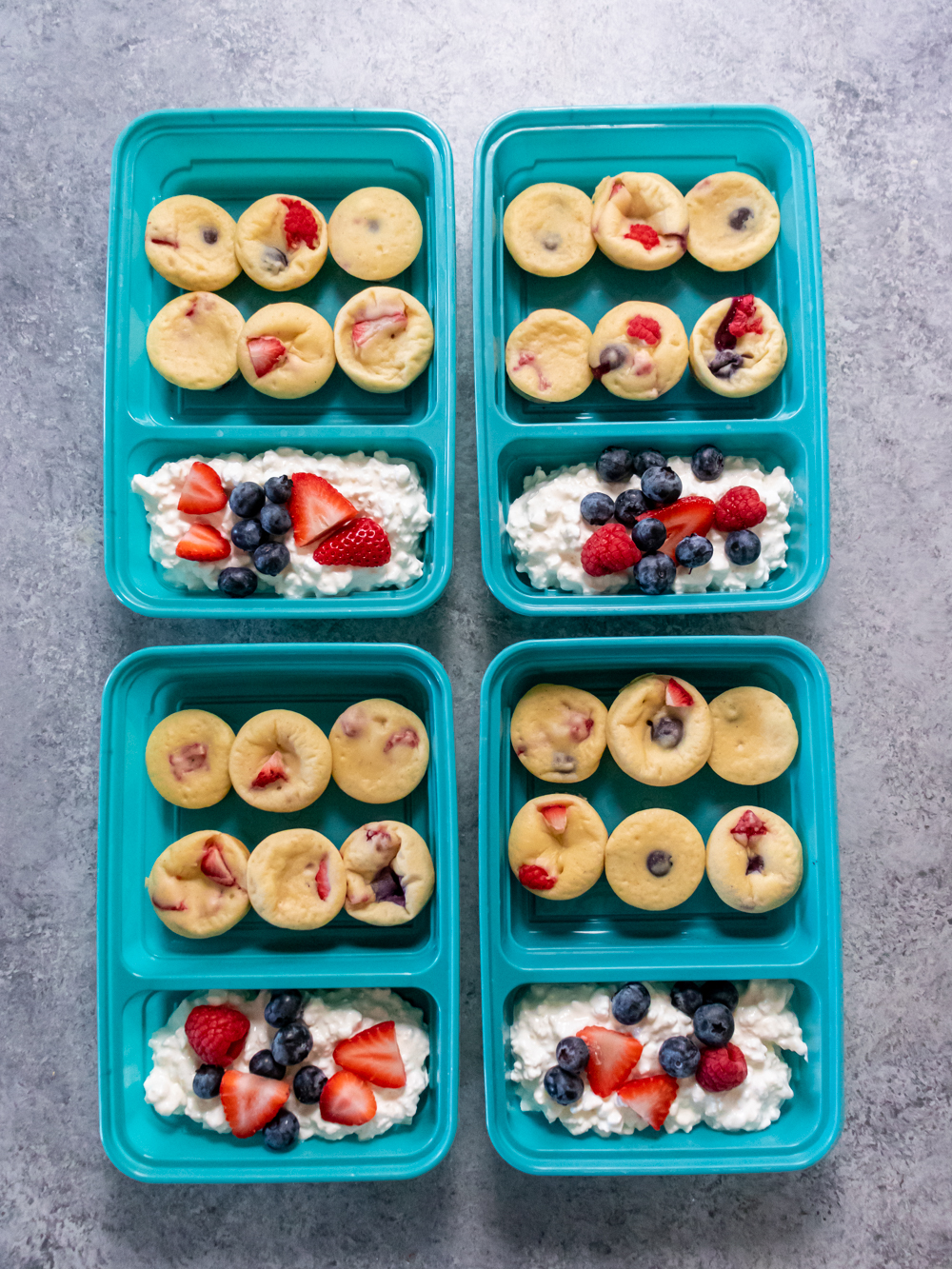 Ingredients
1

cup

gluten-free flour

½

cup

vanilla whey protein powder

½

teaspoon

baking powder

¼

teaspoon

salt

1

cup

whole milk

1

large egg

½

cup

chopped mixed berries

blueberries, strawberries, raspberries
For Serving
1

cup

mixed berries

3

cups

low-fat cottage cheese
Instructions
Preheat the oven to 350ºF and lightly grease 24 mini muffin tin cavities with butter or coconut oil. In a medium mixing bowl, whisk together flour, protein powder, monk fruit sweetener, baking powder and salt. In a separate small bowl, whisk together egg and milk until just combined.

Stir wet ingredients into dry until blended and smooth. Fold in berries.

Fill muffin cavities with batter. Top with additional fresh berries if desired. Bake for 16-18 minutes. Cool pancake bites in tins for 15 minutes.

Gently remove pancake bites and place 6 in large compartments of 4 teal meal prep containers. Add cottage cheese to small compartments and top with berries.
Nutrition
Calories:
433
kcal
|
Carbohydrates:
58
g
|
Protein:
38
g
|
Fat:
4
g