Apricot Cucumber Tofu Steak Meal Prep (Vegan – Vegetarian – GF)
Who thinks vegan food is too strange to eat? Who thinks everything in the vegan diet probably tastes bland, or like cardboard? If you hold either of these opinions, have no fear! MPOF is here, to save you from eating meals that just don't taste good! And because we only want the best for you, today we're gonna be going over a delicious, 100% plant-based option that you can cook and eat in under an hour—a vegan apricot cucumber tofu steak meal prep recipe!
Tofu main dish with an easy apricot cucumber compote. Serve with quinoa and green beans for a protein packed plant-based meal!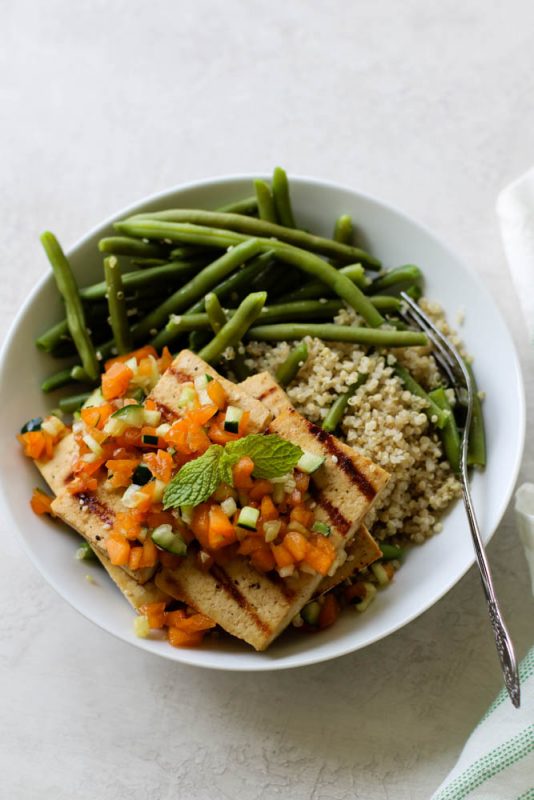 Vegan Apricot Cucumber Tofu Steak Meal Prep Ingredients:
1 16 oz. block extra firm tofu, drained and rinsed
2 TBS white rice vinegar
2 TBS balsamic vinegar
1 tsp pure maple syrup
1⁄2 cup cucumber, grated
1 apricot, grated
1⁄2 TBS maple syrup
8 cups green beans, trimmed
2 cups cooked quinoa
Fresh mint, for serving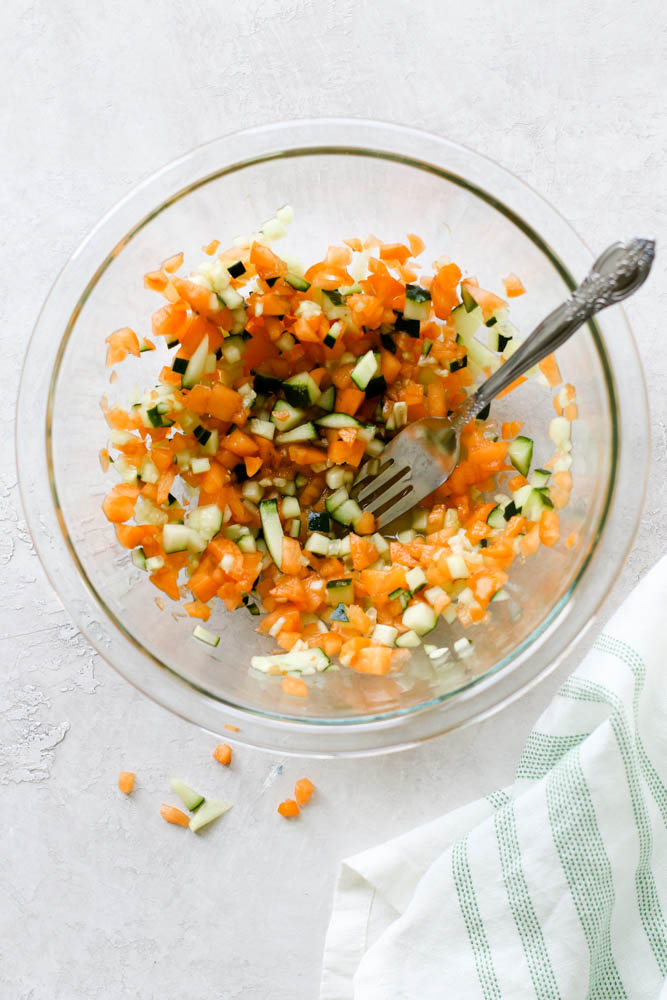 How Tofu Is Made:
Tofu is derived by condensing curds of soy milk and pressing them into blocks. These blocks can come in a number of different consistencies, from very soft, to super firm! The wide range of texture choices is actually one of the things that makes tofu so incredibly versatile! Depending on the selected level of firmness, it can be used to substitute a number of different meats While this is, of course, your choice, we recommend the extra firm option for this tofu steak meal prep.
Tofu has great health benefits:
Did we mention how ridiculously healthy tofu is? It contains all 9 essential amino acids—Histidine, isoleucine, leucine, lysine, methionine, phenylalanine, threonine, tryptophan, and valine! Aminos are crucial because they aid in tissue repair and a number of other bodily functions. Tofu and soy, in general, is also a great source of iron, calcium, manganese, selenium and phosphorous! We highly recommend cooking and seasoning the tofu on a grill, or in a grill pan. This makes for a delicious sear on the outside, just like traditional steak!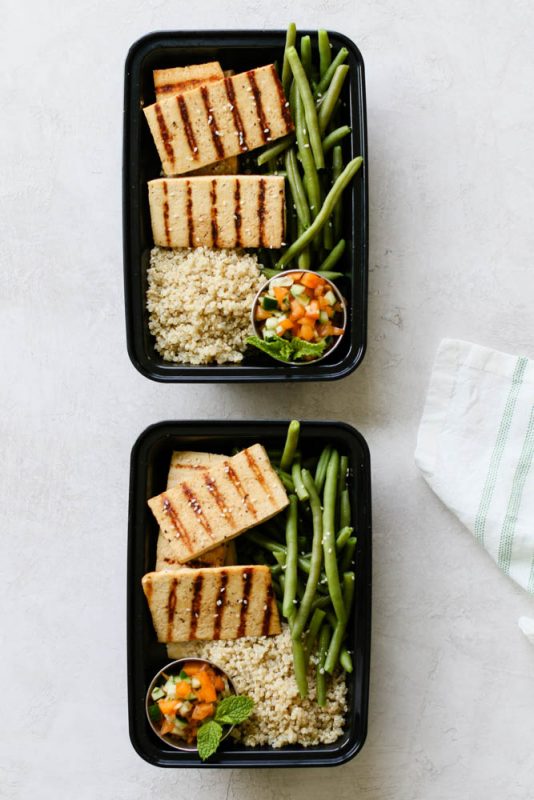 This vegan tofu steak meal prep recipe helps you celebrate the summer, with its tangy and refreshing seasonal compote! Consisting of crisp cucumber and sweet apricot, the compote for this tofu steak meal prep comes together in a flash! All you need is a cheese grater, then just grate your apricot and cucumber into a bowl with maple syrup and refrigerate!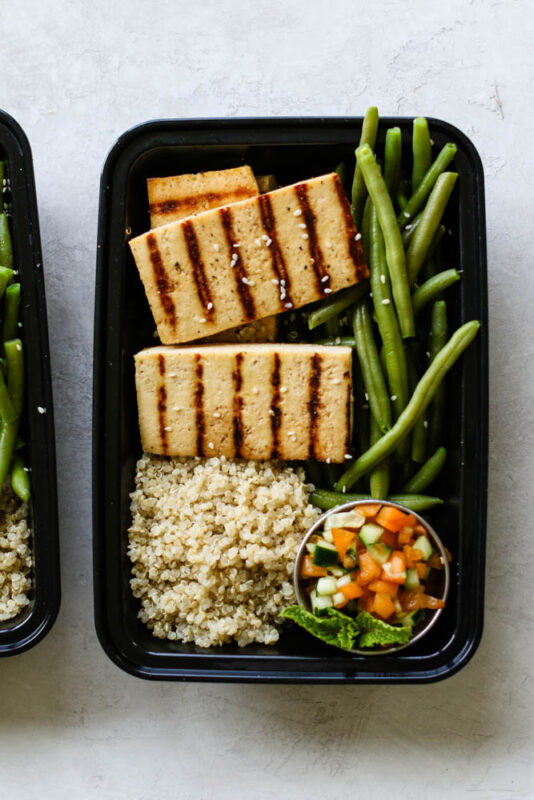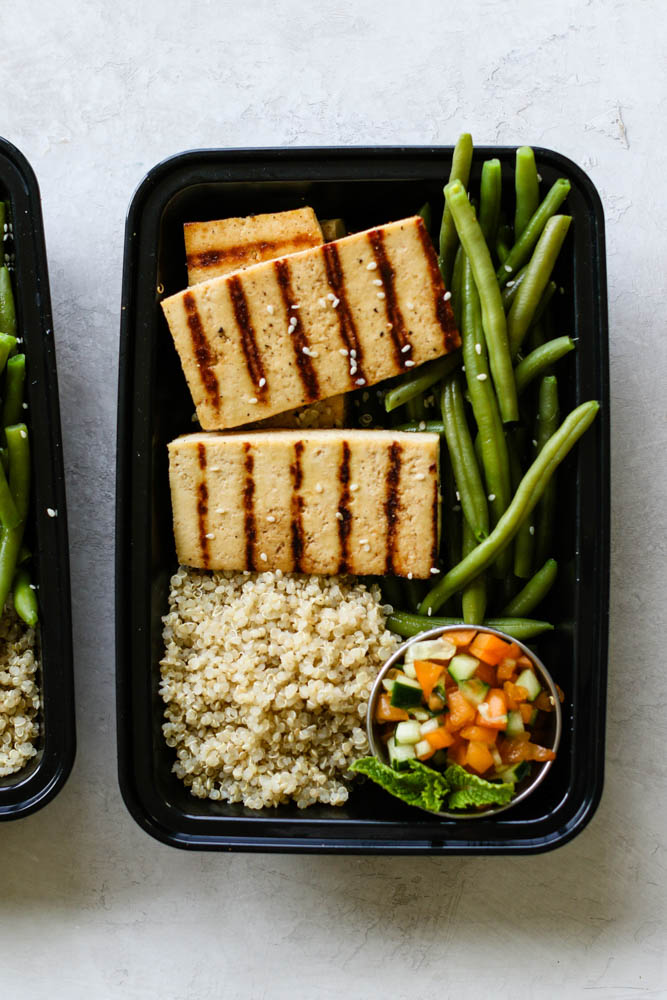 How many servings does this recipe make, you ask?
Between the tofu steak, green beans, and quinoa on the side, this meal prep recipe makes 4 very generous servings! Besides the amount of food you get, we also love the fact that this meal prep recipe has lots of fiber and protein to keep you full. Quinoa actually plays a big part in the fiber and protein content of this vegan apricot cucumber tofu steak meal prep—It is extremely nutritious! Per 1 cup of quinoa, there is on average 8g of protein, and a whopping 5g of fiber. And that's not even counting high levels of minerals like magnesium, manganese, and phosphorus. Like tofu, this grain also contains all 9 essential amino acids, making it one of the only plant foods to do so. If you think you could use more quinoa in your life, be sure to check out this Quinoa Chickpea Taco Bowl meal prep recipe, or this Tuna Quinoa Salad Endive Wrap meal prep recipe!
Whether you're a vegan or not, we're confident that this apricot cucumber tofu steak meal prep recipe will delight your tastebuds and keep your stomach full!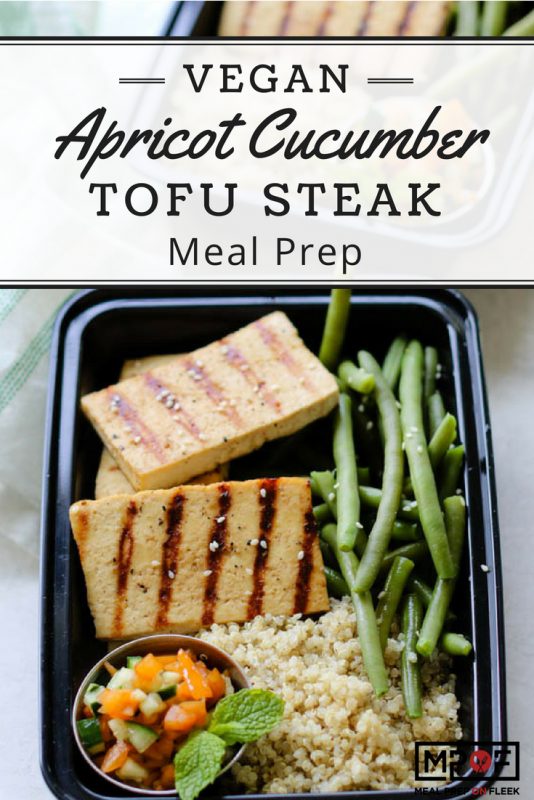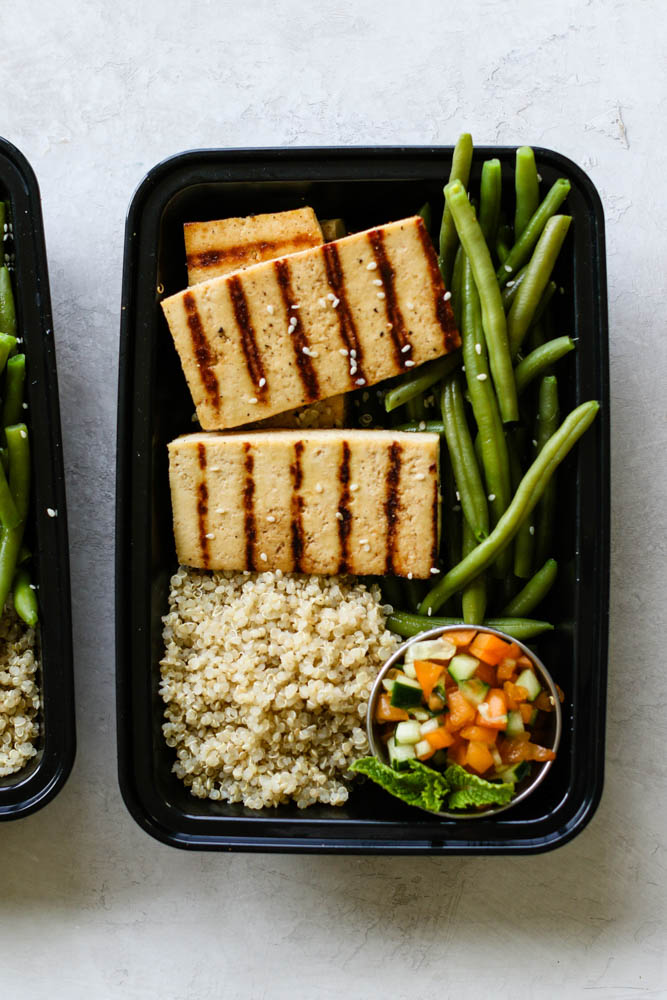 Ingredients
1-16

ounce

block extra firm tofu

drained and rinsed

2

tbs

rice wine vinegar

2

tbs

balsamic vinegar

1

tsp

maple syrup

1/2

Cucumber

grated

1/2

apricot

grated

1/2

tbs

maple syrup

8

cups

green beans

trimmed

2

cups

cooked quinoa

fresh mint serving
Instructions
Wrap tofu in towel and press to remove moisture, then cut into 1⁄2" slices.

Mix white rice vinegar, balsamic vinegar, and maple syrup together in a large bowl.

Place slices of pressed tofu in a large glass dish, laid flat. Pour contents of bowl into baking dish and seal tightly. Chill in the refrigerator for 30 minutes to marinate, flip the bag over at 15 minutes to cover tofu on both sides.

While the tofu is marinating, prepare cucumber and apricots compote. Add grated cucumber and apricot to a bowl and stir in maple syrup, then toss to combine. Store in the fridge until ready for use.

Cook your quinoa according to package instructions if you haven't already done so.

Fill a large pot with water and add trimmed green beans. Allow to cook for 3-5 minutes, until tender crisp and vibrant green.

Start up your grill or grill pan and turn to medium heat. Place tofu on the grill using tongs and cook for about six minutes on each side, or until slightly blackened. Flip and repeat.

Divide tofu and quinoa between containers and store cucumber/apricot mixture on the side.

Store in the fridge for 5-7 days.
Notes
Nutrition for 1 out of 4 servings:
18g Protein | 47g Carbs | 7g Fat | 14g Fiber | 322 Calories
Nutrition
Serving:
1
meal
|
Calories:
322
kcal
|
Carbohydrates:
47
g
|
Protein:
18
g
|
Fat:
7
g
|
Fiber:
14
g