Satisfy your takeout craving in less than 10 minutes with this 10-Minute Pad Thai Zoodles recipe using spiralized zucchinis as noodles. The sauce is made with creamy almond butter and coconut aminos, which complement the sautéed zoodles perfectly. You can add an additional egg, or even some chicken or salmon for extra protein.
Easy Keto Pad Thai Zoodles Recipe
This recipe is Vegan and Dairy Free
Ingredients:
75 ml water
3 tablespoons (45 ml) creamy unsweetened almond butter
1 tablespoon (15 ml) coconut aminos
1 teaspoon (5 ml) chili sauce or hot sauce
2 tablespoons (30 ml) coconut sugar
1 garlic clove, minced
½ lime, juiced
2 tablespoons (30 ml) Avocado Oil
1 egg,* whisked (optional)
½ sweet onion, chopped
3 tablespoons (45 ml) chopped nuts (of your choice)
3 tablespoons (45 ml) scallions, chopped
2 medium zucchinis, spiralized
This recipe is from Mark Sisson's new book The Keto Reset Diet: Reboot Your Metabolism in 21 Days and Burn Fat Forever
Learn how to make perhaps the most profound health and weight loss boosting lifestyle change you will ever make—transforming your body from carbohydrate dependency to become a fat burning beast. In his new book, Mark Sisson reveals his proven effective ketogenic eating strategy for losing weight and improving health. When you go keto, you will reset your metabolism for effortless fat loss using a targeted ketogenic diet of high-fat, low-to-moderate protein, low-carb foods, and complementary lifestyle practices that help optimize metabolic and hormonal functions.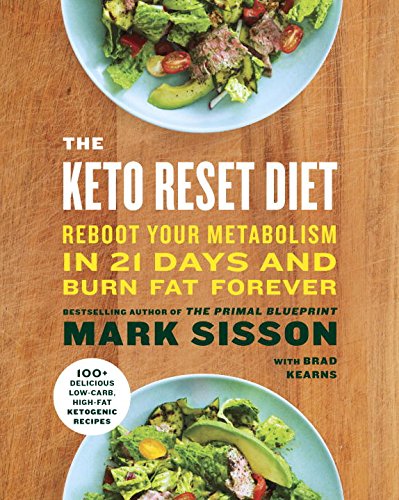 Unlike other ketogenic plans, Sisson first teaches readers the real secret to rapid and sustained weight loss, which is in becoming "fat-adapted" before entering full nutritional ketosis. This process allows your body to learn to burn fat more efficiently, resulting in increased and sustained weight loss over the long-term. It takes as little as 21-days to reprogram your metabolism to burn fat for fuel, by ditching processed grains, sugars, and refined vegetable oils in favor of nutrient-dense, high fat, primal/paleo foods–and you'll see immediate results. Next, you'll fine-tune with Intermittent Fasting and then foray into full ketogenic eating for a further weight loss boost and improved health. In this way, you will achieve the highest level of what Sisson calls metabolic flexibility—the key to health, weight control, and longevity.
With The Keto Reset Diet, you can eat to total satisfaction by enjoying rich, high-satiety foods, and even weather occasional slip-ups with high carb treats or undisciplined vacation binges and not go into a tailspin. Instead, you can quickly recalibrate back to fat-adaptation, and use keto as a lifelong tool to stay trim, healthy, energetic, and free from the disastrous health conditions caused by the high carb, high insulin producing modern diet. With step-by-step guidance, daily meal plans and a recipe section with over 100 delicious keto-friendly recipes, this is the definitive guide to help the keto-beginner or the experienced health enthusiast understand the what, why, and how to succeed with ketogenic eating.
Here are a couple tools to help you get Spiralizing!
Pin these Keto Pad Thai Zoodles for later or you could bookmark this page: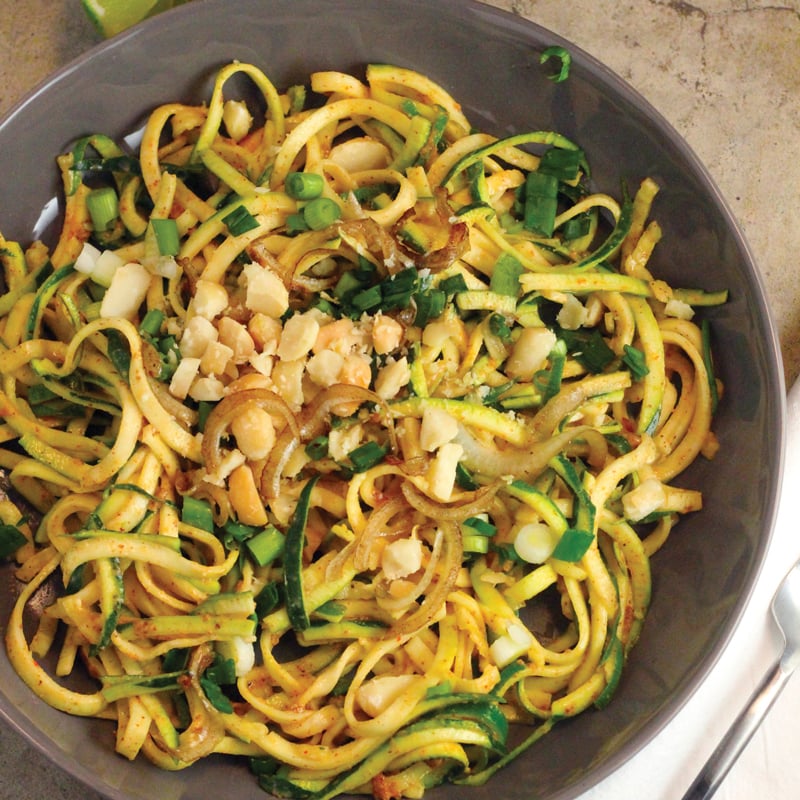 Ingredients
75

ml

Water

3

tbsp

creamy unsweetened almond butter

1

tbsp

Coconut Aminos

1

tsp

chili sauce or hot sauce

2

tbsp

Coconut Sugar

1

clove

garlic

minced

1/2

ea

lime

juiced

2

tbsp

avocado oil

1

ea

egg

optional

1/2

ea

sweet onion

chopped

3

tbsp

chopped nuts

your choice

3

tbsp

Scallions

chopped

2

ea

zucchini

medium size
Instructions
Whisk together water, almond butter, coconut aminos, hot sauce, coconut sugar, garlic, and lime juice in a bowl and set aside.

In a medium-sized skillet, heat oil and sauté the chopped onion until translucent.

Pour the whisked egg in with the onion, gently stirring for about a minute to cook the eggs and to break them up into small bits.

Stir in the sauce and spiralized zucchini noodles, or "zoodles," and cook for a couple more minutes.

Add in the chopped nuts and scallions, cooking for another minute.

Divide into two bowls and serve immediately.
Notes
*Omit egg for a vegan-friendly recipe.
Recipe courtesy of Rachel Mansfield in the new book Keto Reset
Nutrition
Serving:
1
serving
|
Calories:
423.84
kcal
|
Carbohydrates:
20.21
g
|
Protein:
7.66
g
|
Fat:
37.19
g
|
Saturated Fat:
3.56
g
|
Cholesterol:
1.86
mg
|
Sodium:
253.23
mg
|
Potassium:
270.51
mg
|
Fiber:
3.71
g
|
Sugar:
9.91
g
|
Vitamin A:
89.73
IU
|
Vitamin C:
3.66
mg
|
Calcium:
104.46
mg
|
Iron:
1.41
mg